Video Archives: Arizona Cantaloupe: Yum!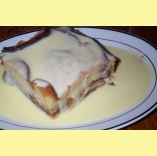 Featured Recipe
Applesauce Bread Pudding
Preheat ovent to 350 degrees Arrange in bottom of greased 9" square pan 4 slices dry bread. Combine & spread over bread: 2 cups applesauce, raisins, brown sugar, cinnamon. Top with 4 additional slices dry bread. Beat together & pour over bread: eggs, milk, brown sugar, vanilla, salt and nutmeg. Top with: 1/2 cup applesauce and sprinkle of cinnamon & sugar. Bake 55 to 60 minutes. Serve warm or cold.
videos