Video Archives: Arizona Leaf Lettuce: Yum!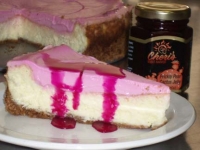 Featured Recipe
Cheri's Classic Prickly Pear Cheesecake
For Crust: Mix graham crackers, sugar and pecans. Slowly stir in butter, a little at a time, until moistened. Press onto bottom of a 9-inch springform pan. Set aside. Filling: Beat cream cheese until creamy. Add sugar slowly and continue mixing until well blended and smooth. Add lemon extract and eggs, one at a time, mixing on low speed until incorporated. Pour over crust. Bake for 50 to 55 minutes (45 to 50 minutes for convection oven), or until knife inserted into center comes out clean. Remove from oven. Topping: Stir jelly into sour cream to break up jelly clumps and carefully pour over cheesecake. Bake 5 minutes. Remove and place on a cooling rack. Cool completely before removing rim. Refrigerate 4 hours. If desired, drizzle Cheri's Prickly Pear Cactus Syrup on top before serving.
videos