Video Archives: Arizona Rancher Gives Yummy Advice on Grilling Quality Steaks!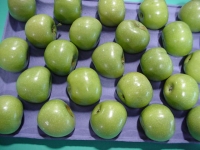 Featured Recipe
Baked Pork Chops and Apples
Melt butter and place pork chops in skillet to be browned on each side, before placing in oven. Peel and slice apples, put aside. Mix dry ingredients in a bowl. Grease baking dish, so food won't stick to the pan. Place apple slices in the bottom of the baking dish, sprinkle the dry ingredients over apples. Lastly, put pork chops on top of everything. Oven temperature at 375 degrees Cover with foil and bake for 1 and 1/2 hours. *Depending on the size of the pork chop, I would use less time for a thinner cut or pork.
videos