Video Archives: "Day in the Life of a Dairy Cow" Told by Young Farmers!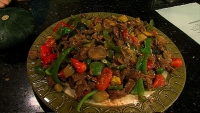 Featured Recipe
Sharla's Arizona Beef & Veggies Stir Fry
Using a sharp knife, slice the yummy Arizona steaks thinly into strips. Sauté steak strips with thinly sliced onions in a few tablespoons olive oil and a tablespoon of butter, stirring often. Add cored and diced peppers, sliced celery and squash, along with a small amount of hot pepper. Add more olive oil if needed. Add garlic after meat has browned. Add a few tablespoons of wine to deglaze the bottom of the pan. Sprinkle flour over meat and stir. As sauce thickens, add a few tablespoons of water or beef broth to thin out to desired consistency. Stir in soy sauce. Cover and simmer over low heat until meat is tender (about 20-30 minutes); stir in mushrooms and cook 1-2 more minutes (only until mushrooms are heated through). Serve over steamed rice, buttered noodles or chow mien noodles.
videos