Video Archives: It's Hot Outside! But Our Dairy Cows are Cool!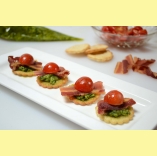 Featured Recipe
Bacon, Pesto, and Tomato Bites
Cook bacon crisp, drain fat and cut into 1-2 inch pieces. With a 2 inch round cookie cutter, cut out rounds of white bread. Place rounds on baking sheet. Melt butter and combine with 2 tablespoons olive oil. Brush butter-oil combination over bread rounds. Bake at 375 degrees until golden brown, about 10 minutes. Remove from oven to cool. Slice cheese in thin, one inch squares and set aside. In a small bowl, drain pesto over sieve to remove excess oil. Remove oil and reserve for tomatoes. Mix together mayonnaise and pesto and place in squeeze bottle or pastry bag with small hole or tip. In another bowl, add tomato halves, reserved oil from pesto, vinaigrette and salt and pepper to taste. Assemble bites. On each round of toast, squeeze a large dot of pesto. Top with slice of cheese, piece of bacon and top with one half of tomato slice that has been soaking in vinaigrette. Serve immediately.
videos