Video Archives: It's Hot Outside! But Our Dairy Cows are Cool!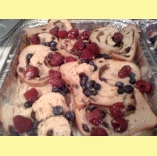 Featured Recipe
Boss's Baked French Toast
Blend eggs in mixer. Add sugar and spice while blending, alternating milk, Patron and butter until foamy and all ingredients except fruit and bread are added. Slice bread and completely cover surface of 2 shallow 13x9 aluminum cooking pans. Pour mixture over top of bread slowly making sure all bread gets covered. Sprinkle blueberries and raspberries on top. Place in oven at 350 degrees for 40 minutes. When ready to serve offer powdered sugar, whip cream, maple syrup or just serve plain.
videos