Video Archives: One Size Does Not Fit All!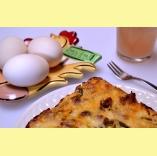 Featured Recipe
Hickman's Jalepeno Bacon & Egg Bake
Pre-heat oven to 350 degrees. Break up patties into chunks and place on the bottom of a greased 13x9-baking dish. Sprinkle 1 tablespoon of the limejuice over the chunks. In mixing bowl on medium speed, blend eggs, sour cream, milk, remaining tablespoon of limejuice and lemon pepper. When mixture is thoroughly blended, pour over hash browns chunks. Top with shredded cheese, jalapenos, and bacon bits. Cover and bake at 350 degrees for 15 minutes. Uncover and bake for another 30 minutes.
videos