Video Archives: Our Yummy Fill Your Plate Recipes and How to Use Them!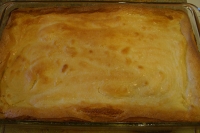 Featured Recipe
Christy's Yummy Gooey Bars
Preheat oven to 350 degrees F. Grease a 9x13-inch pan. In a large bowl, mix together the cake mix, melted butter and 1 egg until smooth. Batter will be thick. Spread evenly into the bottom of the prepared pan. Next, sprinkle the chocolate chips over the layer of dough. Finally, beat the cream cheese, 2 eggs and confectioners' sugar together in a medium bowl until smooth. pour as evenly as you can over the chocolate chips. Bake for 35 to 40 minutes in the preheated oven until the top is set. Let cool for at least 30 minutes. For nut lovers, you can use/add pecans instead of Chocolate chips or include both. Sprinkle any leftover Confectioners' Sugar on the top before cutting into bars.
videos