Celebrity Q & A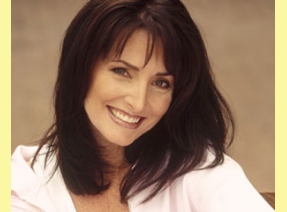 Andi Barness was born and raised in Southern California. After working in L.A. as a radio traffic reporter covering the commuters' daily grind on the Los Angeles freeways, the riots, wildfires and earthquakes, Andi and her husband decided they had had enough, and were ready for a better quality of life in beautiful Scottsdale, Arizona.
Over the past 20 years Andi has been a fixture on local radio and television, and for the last 2 years has expanded her talents to include hosting/co-hosting Sonoran Living, and National Television Infomercials. Some of her recent work includes Hotels.com and Dr. Rey 90210. You may also recognize her voice on the Kaboom and OrangeGlow commercials.
What Andi's claim to fame? Meeting her husband on the television show "The Love Connection" with host Chuck Woolery ( be sure to check out the episode here). Andi also keeps busy raising her three young boys, and making sure that they incorporate a lot of "fun" into their lives
What created your appreciation for good food?

I learned at an early age that I am not a great cook. There is nothing better than going out to dinner and letting someone else create the "magic!"

Where is a favorite place for you to eat?

Not sure if I have a favorite place, but it for sure needs to be "locally" owned and operated. Some of my favorites include Bryan's BBQ, Butterfield's Pancakes and Floyd's.

What's a favorite dessert for you two?

I love Banana Splits, and my husband knows that I don't like to share my dessert.

Any family traditions that involve food that you'd like to share (especially if somewhat unique to your family)?

My Dad has always entered Chili and Salsa competitions. So, I am a snob when it comes to that. I was raised on BBQ food, so when we get together with family and friends the spread is always surrounded with ribs, (my Dad's homemade BBQ sauce), yummy beans and Cole slaw.

What's your favorite thing to cook and why?

Again, I'm not a great cook, but my husband loves my meat loaf and Rosemary and Peach Turkey.

With a busy schedule, how do you make sure you eat healthy yourself?

I stay away from fast food, so that helps a lot. Every day is a new adventure when it comes to what I eat, but I always start the day with something healthy like, Greek yogurt, fruit and/or scrambled eggs with cheddar cheese.

Where does Arizona distinguish itself when it comes to quality food?

Arizona has the best chefs in the country! I am so lucky that I get to not only meet great chefs in the valley while working on Sonoran Living, but I also get to sample their food on a daily basis.

Sometimes I can't believe that I get paid to do what I do. I am on a mission to spread the word about how important it is to support our local farmers, chefs, restaurants, etc. We need to keep our dollars "local."

What do you think is most important for Arizona families to keep in mind about food and nutrition?

It is so important to teach our children how important it is to spend our money on locally-grown products, and to get our kids to eat right at an early age. My kids LOVE fruits and vegetables because that has been a part of their diet since they were born. I think "local;" it taste better!

Anything else you'd like to add for our audience regarding food and Arizona agriculture?

For the longest time, I did not give much thought to Arizona Agriculture, and it was not until I started my own "local" business, and got to meet some really neat "local" farmers and restaurant owners on Sonoran Living that I realized the importance of our actions. Every single one of us can make a difference and help to keep the money in our state and help support economic growth.
back to main page
Videos The Journey of My Eggcellent Egg