Celebrity Q & A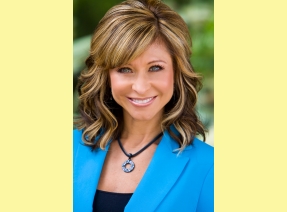 Three-time Emmy Award-winning journalist Catherine Anaya anchors CBS 5 News weekdays at 5pm, 5:30pm, 6:30pm and 10pm.
She joined CBS 5 News in January 2003. The Arizona Associated Press Broadcasters Association named Catherine 'Anchor of the Year' for 2003, the same year in which she was named "Best TV Newcomer" by Phoenix Magazine, which also named Catherine and co-anchor Sean Mclaughlin "Best Evening News Team" in 2010.
In 2006, she was honored with her third Emmy Award for her report about twin boys burned in an apartment explosion, their recovery and their plight to remain in the U.S. for medical treatment.
Catherine is a versatile journalist in both broadcast and print. She currently writes a monthly column for Latino Perspectives Magazine. To view Catherine's past columns,
click here
.
In May 2007, Catherine won the first place award for Magazine commentary/analysis from the Arizona Press Club for her magazine column about the two Honduran boys with burn injuries.
She previously wrote an award-winning monthly parenting column for Los Angeles Family Magazine. In October of 2004, Catherine proudly co-anchored a presidential debate special for CBS 5 News with the legendary Walter Cronkite.
Prior to CBS 5 News, Catherine freelanced as a Special Correspondent for the television daily newsmagazine "Extra." Before that, she spent four years at KCBS-TV, in Los Angeles where she anchored the morning news, co-hosted an afternoon women's talk show and earned an Emmy Award nomination for her reporting from El Salvador following the aftermath of Hurricane Mitch.
CBS 5 News marks Catherine's return to the valley. She anchored the weekday morning and noon newscasts for KPNX-TV from 1992 to 1998. During her six years there, Catherine won her first Emmy Award for reporting. She also worked as a health reporter and helped launch the award-winning breast cancer awareness program Buddy Check 12. Before that, Catherine anchored the news in South Bend, Ind., and McAllen, Texas.
Catherine is an active member of the National Association of Hispanic Journalists. She is the current Vice President and current board member of the Arizona Latino Media Association (ALMA) and is a former member of the Fresh Start Women's Foundation Auxiliary Board and the Arizona Hispanic Chamber of Commerce Board of Directors.
Catherine is a graduate of the Valley's Hispanic Leadership Institute (HLI), Class of 2004 and is the recipient of the HLI Distinguished Alumni Award. Catherine was also selected to the '40 Hispanic Leaders under 40' list, recognizing committed individuals working toward the greater good of the community. She also traveled to Israel as part of a group of National Latino Leaders and Journalists invited to the country for a week-long educational seminar.
Catherine has been honored with awards, including the ASU Gamma Alpha Omega Sorority's Latina Excellence Award for Arts/Media and the Girl Scouts 2006 Women of Distinction World Award of the Arts for championing creative endeavors of all types.
Catherine is also a proud mother of two, a motivational speaker, founder of the Sisterhood of Super Women and an avid runner. She's run eight marathons since 2005, including the 2007 Boston Marathon during a Nor' Eastern storm. She most recently ran the Boston Marathon again in 2011.

To Follow her on social media:
What created your appreciation for good food?

I dated someone when I was in college who had a very "worldly" taste in food and he exposed me to foods from so many different places. Since then – I've been willing to try just about anything at least once – and find that I usually end up liking it!

Where is a favorite place for you to eat… especially for say an anniversary dinner or other special occasion?

If it's a "special occasion" I love Mastro's Steakhouse . The steak & lobster mashed potatoes are amazing!

But my favorite food is a good burger & Deluxe is still my favorite – so if it's Mother's Day or a birthday I'm celebrating – you'll probably find me there!

What's a favorite dessert and why?

Anything with peanut butter and chocolate. PB&C pie? Yes! PB&C ice cream? Yes! PB&C cookies? Yes! It's my favorite "sweet" combination. I could eat peanut butter out of a jar & call it dessert - LOL

Any family traditions that involve food that you'd like to share?

Christmas Eve dinner always involves tamales. It started when I was a kid when the entire family would get together that morning and make them from scratch. Our family is too spread out for that anymore so I usually buy them from Ranch Market.

But the last few years the mother of the Mayor of Tolleson (Adolfo Gamez) has spoiled me by sending me a few dozen of her own home made tamales. They are incredible!!!

What's your favorite thing to cook and why?

Unfortunately, my love of food does not translate into a love of cooking. I have no patience – LOL.

But the one thing I do cook every week is salmon. I buy it frozen from Costco and then cook enough for the week in a pan with olive oil & seasoning & take it to work for dinner.

With a busy schedule, how do you make sure you eat healthy yourself?

I try to keep a protein bar with me when I know I'm on the go. I also keep a small fridge under my desk & take my mid-day snack (Greek yogurt w/almonds) and my dinner (salmon & asparagus) with me to work.

Where does Arizona distinguish itself when it comes to quality food?

I only buy Hickman's eggs because it comes from Arizona's own Hickman Family Farms.

Who can resist Schnepf Farm peaches from Queen Creek?

Arizona produces some wonderfully home grown products which I suspect is one of the many reasons we're able to draw so many James Beard Award Winning chefs to the state.

What do you think is most important for Arizona families to keep in mind about food and nutrition?

I find that if I try to prohibit my children from something (chips or ice cream) they usually want it more. So I look for healthy alternatives (pita chips) or a healthier version of it (Skinny Cow ice cream sandwiches).

I've gotten pretty good at showing them you can buy almost the same thing at Trader Joe's that you can in the regular grocery store but it's usually better for you and tastes just as good.

Any thoughts on Arizona Agriculture?

I don't think we give our farmers and ranchers enough credit for the steady pace and stream of locally grown foods that not only fill your plate… but the Arizona economy. I strongly believe in buying local and when I shop for food – I will always buy Arizona grown first.

Anything else you'd like to add for our audience regarding food and Arizona agriculture?

Everything in moderation.

My favorite food is a good cheeseburger & fries. Doesn't mean I should eat it every day. But if I do it once or twice a month – I find myself looking forward to it and savoring it more because I DON'T have it all the time.
back to main page
Videos The Journey of My Eggcellent Egg