Celebrity Q & A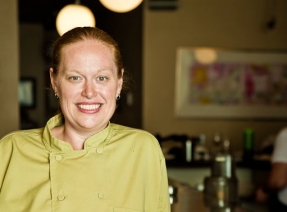 FnB in Scottsdale
www.fnbrestaurant.com
What created your passion for cooking?

Growing up, we didn't have a lot of money and my mom didn't know how to cook. We ate a lot of TV dinners and mom would buy 5 lbs of ground beef and cut into 1 lb packages, or fish sticks. Food must be better than this, I thought, this is not what it's about. It made me want to experience better food. Mom complimented my efforts to remake her Hungarian dishes. I made them more edible.

Where is your favorite place to eat besides your restaurant (you could include your own kitchen)?

I've never eaten at my restaurant and probably never will. Dirt's Candy in NYC—vegetarian restaurant, the chef only cooks vegetables. I went three times last year and you don't have to eat at the same place ever in NYC.

What's your favorite dessert?

I like liquid dessert—cocktails or cheese. I could live without sugar. I like salt.

What are your holiday traditions with food?

I like to make eggnog with crème anglaise base, brandy bourbon whisky scotch and rum. Christmas Eve is National Eggnog day, so at the restaurant on NYE we'll have plenty of good ones (drinks) here. My mother makes Hungarian cookies and nut rolls, took the book recently to learn how to make the desserts the family has always enjoyed.

What's your favorite thing to cook?

Braising meat. I wish it was cooler here; I would do more of it. Brisket, veal, chicken thighs, short ribs.

What ingredients can you not do without when you're cooking?

Everything changes so much seasonally. I enjoy that I can change the menu so often. I can't think of one thing I can't live without. I love cooking seasonally whether its a nut or a spice, something you'll want back again.

What's the most basic advice you give when you're talking to someone about cooking?

Two things: When using micro-plane for your zester turn upside down to see zest that's coming thru and see how much you are using to manage not getting any of the pith. See exactly what you are taking off.

Deseeding a pomegranate in a bowl of water: Score it and it'll avoid squirting juice, white membrane comes to surface, skim off and have seeds ready to go.
back to main page
Videos The Journey of My Eggcellent Egg