Celebrity Q & A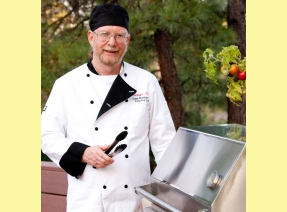 Frank Branham, author of the newly-released
Cottage Place Flavors
cookbook, is the Executive Chef and Owner of the award winning
Cottage Place Restaurant
in Flagstaff, Arizona. He is passionate about creating an amazing dining experience for each and every one of his patrons and the rave reviews posted on internet travel sites certainly prove he has been successful. The Cottage Place has been voted by readers of the Arizona Daily Sun "Best Fine Dining" and "Best Wait Staff" for many years. In addition, the Wine Spectator Magazine has honored the restaurant with its "Award of Excellence" yearly since 1995. All of this is a testament to Frank's artful cuisine, his knowledgeable and caring staff, as well as his skills as an entrepreneur.
Frank has been an Executive Chef for 24 years. As a member of the American Culinary Federation Frank is a Certified Executive Chef, and member of the American Academy of Chefs, the ACF honor society. He is the recipient of numerous awards for his talent and dedication to the profession including being named "Chef of the Year" three separate times in Northern Arizona and being a finalist in the American Culinary Federation National Championship in 1994.
After years as a successful chef, Frank is now sharing his passion for fine food and how to develop flavor in his recently released cookbook, Cottage Place Flavors. He shares many new creations, such as Cottage Place Bouillabaisse, Goat Cheese Tamales, Tequila Lime Shrimp, Gorgonzola Encrusted Filet along with all the Cottage Place favorites. Inside Cottage Place Flavors, you'll find a comprehensive collection of more than 120 recipes, 60 striking photos, four photo demonstrations along with three separate essays and many interesting stories.
In 1991 Frank moved from Oregon to Flagstaff to be the Executive Chef at the Woodlands Plaza Hotel (now the Woodlands Radisson Hotel) where he oversaw operations of two restaurants and an extensive banquet operation. The business blossomed under his leadership and during his tenure there he became well known in Flagstaff for his culinary excellence.
Frank bought The Cottage Place Restaurant in 1994 and for over 17 years he has been responsible for the entire operation. In addition to offering dinner five nights a week, Frank teaches a popular series of cooking classes, offers upscale catering, hosts wine tastings and is well known for special wine dinners. He selects the local produce, creates the menus and specials, manages the wine program, plus trains and oversees the staff, It is truly a special place; local residents and tourists truly enjoy the intimate atmosphere, fine food, and extensive wine list.
There have been many influences in Frank's career, but according to Frank the most important is the interactions he has with his guests. Each night he chats with as many as possible and listens to their comments. Often, guests are very excited about certain textures or flavors and he will make a mental note of their comments. When comments are not as favorable, he tries to discern what can be changed. Cottage Place Bouillabaisse, a fisherman's stew, provides an interesting example. After traveling to Marseilles and experiencing the "real thing," he developed a traditional Bouillabaisse which did not seem to excite the guests. So, he abandoned tradition and developed a Bouillabaisse-style stew with his own ideas. He gave it a sweet undercurrent, more seasoning and a richer texture. Guests love the new recipe, which you will find in his new cookbook, Cottage Place Flavors.
Travel has certainly played an important role in Frank's professional development. Domestic travel has stimulated his interest in American regional cuisine, while international trips have expanded his knowledge and understanding of different cuisines. He loves the Mediterranean for its open-air markets, fresh ingredients, and interesting flavors. When traveling, he and his wife, Nancy, always seek out local restaurants and come home with several new books featuring traditional and modern interpretations of regional cuisine. Frank often translates the flavors from a trip into specials, tasting menus, and themes for cooking classes.
Reading cookbooks is only a small part of how literature has influenced Frank's career. Books on food history and food philosophy have also been very instrumental in his growth as a chef. MFK Fisher, with her inspiring descriptions of tastes, textures, and ambiance, has had a profound effect on his career. Her philosophy has influenced the experience he creates at The Cottage Place and a special menu where Frank honored her culinary writings is included in Cottage Place Flavors. Raymond Sokolof's Fading Feast and Betty Fussell's I Hear America Cooking were driving forces behind his passion for American Regional Cooking. As he worked to develop his ideas about flavor, Culinary Artistry by Andrew Dornenburg and Karen Page was a particularly useful reference. They also wrote Becoming a Chef, a James Beard Book Award Winner, providing a behind-the-scenes look into some of the most celebrated kitchens. This was particularly influential as he started his own restaurant—a great read. Another book, The Soul of a Chef by Michael Ruhlman, creates suspense and drama around the quest to understand what drives great chefs to achieve perfection; it further opened Frank's eyes to the challenges of being a chef and owning his own restaurant. As a part of mentoring young chefs, Frank will often give them one of these books.
Another important influence is Frank's growing passion and interest for the local food movement. The quality and freshness of fruits, vegetables, and herbs grown in northern Arizona have inspired many new dishes at The Cottage Place. There is a tremendous variety of specialty items like squash blossoms, heirloom tomatoes, Armenian cucumbers, and exotic greens. Frank states, "It has been a wonderful learning experience getting to know the local farmers, sharing in their crops, and understanding their farming techniques. Although northern Arizona is a somewhat difficult area in which to grow food, my work with the local farmers' market, its participants, and the local Community Supported Agriculture (CSA) chapter has inspired me to begin gardening."
Frank and his wife, Nancy, enjoy living in Flagstaff where they hike, ski, rock climb, garden, and enjoy being a part of the community. They volunteer their time and cater events for many local non-profit groups.
Frank's excellent reputation, community involvement, and passion for all things culinary has helped the Cottage Place Restaurant grow and become more successful every year. He has thousands of loyal customers who appreciate the extraordinary dining experience they receive each and every time they visit.
Find Frank and
Cottage Place on Facebook
!
What created your passion for cooking?

I grew up in the South eating "comfort foods", but when I moved to Oregon I was exposed to a variety of great restaurants and "real" cuisine. Then by chance I got a job at a great restaurant . . . from then on I was hooked on learning all I could about the history and art of food.

Where is your favorite Place to eat?

I really don't have a favorite outside The Cottage Place, but I do enjoy different kinds of foods and restaurants. I love good sushi but also Thai and Mediterranean cuisines. A lot of chefs don't eat out very often but Nancy and I eat out at least once a week; it's our industry and we love to support it.

What's your favorite dessert?

Our own Chocolate Crème Brulee at the Cottage Place.

What's your favorite thing to cook?

I love to create rich and full flavored soups and sauces. We are well known for them at the restaurant and we also offer cooking classes on soups, stocks and sauces.

What ingredients can you not do without when you're cooking?

Great stocks (chicken, beef and vegetable) add umami, that great savory sensation, to my creations. They are the foundation of the flavor in so may of our menu items and I write about it in my "Flavors" chapter in the cookbook.

What's the most basic advice you give when you're talking to someone about cooking?

Learn to balance flavors and aromas. . . a little sweetness can really make a savory dish pop.

Share your thoughts about Arizona agriculture?

I have become very excited about incorporating local produce from Arizona into our menu. We have such a diverse climate in our state that I can get a wide range of Arizona grown produce all year long by working closely with our local CSA. My favorite time here in Northern Arizona is the summer, when I shop twice a week at our local farmer's market and also grow some of my own produce. Each summer I feature special menu items based on local meats, dairy products and vegetables.

Any advice about food and nutrition?

We have many items on our menu that use cream and butter, BUT it is absolutely possible to eat out and eat healthy, especially at The Cottage Place where we make everything but our bread from scratch. We always have the option of grilled proteins, quinoa, seasoned vegetables with no fat, and low fat sauces make from our stocks. We even feature an award winning, non-fat dessert, Arizona Cream, a light and refreshing yogurt based creation. We feature several vegetarian items on our menu and are well known for accommodating patrons who have special diets.

What is unique to Arizona when it comes to food, restaurants and/or anything related?

Arizona has a truly unique combination of cultural influences that date back to its early history. The combination of Native American, Asian, Hispanic, Frontier and European cuisines provide a great opportunity for uniqueness and diversity in creating "Arizona Cuisine"; the possibilities are endless.
back to main page
Videos The Journey of My Eggcellent Egg