Celebrity Q & A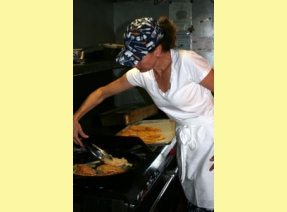 Gwen Ashley Walters is a professionally trained chef, a Certified Culinary Professional and a full-time food journalist.

She writes monthly restaurant critiques and other food and travel stories for PHOENIX Magazine, including monthly dessert and local product columns.

Gwen is also a features writer for the quarterly publication Edible Phoenix, and she writes about cooking and eating at home, in restaurants, and everywhere in between at Pen & Fork.

SOCIAL MEDIA:
Twitter: @chefgwen
Facebook:
http://www.facebook.com/pages/Pen-Fork/115506848460095
What created your passion for cooking?

I was rather late to the cooking party. I didn't know how to cook when I married my husband, but he came from a long line of wonderful, Southern cooks.

They took me under their wing and showed me around the kitchen. I fell in love with them -- and cooking -- so much so that I decided to change careers.

I attended Scottsdale Culinary School in 1996, graduating with honors and ready to cook at my first job at The Boulders Resort in Carefree.

After cooking for a year in commercial kitchens, I decided to switch directions, and began writing about food. It's not surprising really, because both of my parents were professional journalists. I've written three cookbooks and contributed to a few more. I am now a full-time food writer, writing for PHOENIX Magazine, Edible Phoenix and Pen and Fork.com.

Where is your favorite place to eat?

I adore going out to restaurants (some of my PHOENIX Magazine assignments are restaurant critiques). My favorite restaurants are run by local chefs and restauranteurs who have a passion for gracious service and cooking from the heart. If they support out local growers, farmers and ranchers, even better. I also love to cook at home, too, although I don't do it as often as I used to.

What's your favorite dessert?

I write a monthly dessert column for PHOENIX Magazine, so I have had more than my fair share of desserts. I can't pick one favorite but a few stand out. I love the key lime pie (when it's in season) at Cafe ZuZu. I also love FnB's butterscotch pudding, and any dessert at restaurant noca. I love the simplicity of Rancho Pinot's desserts, especially the seasonal apple date walnut cake. And Pastry Chef David Blom is killing the desserts at Pink Pony. So, maybe the better question is, what dessert don't I like?

Since it's December, tell me about your favorite Christmas foods and why?

The one recipe I make every Christmas is molasses marinated beef tenderloin with a wild mushroom compote. It is a recipe from my first cookbook, The Great Ranch Cookbook, and it is really a knock-out. It has lots of black pepper, fresh ginger, coriander and of course, sweet, dark molasses. I prepare it on the grill so it has a nice smoky flavor and a charred crust. It makes a mess on the grill but it's worth it. The holidays are about being with friends and family, so it doesn't really matter what you cook -- it's about being together and being grateful for all of life's blessings.

What's your favorite thing to cook?

My favorite thing to make doesn't require cooking at all. I have been on a gourmet smoothie kick for almost two years now. I like to stretch my creative thinking by pairing unusual ingredients that you won't find in a typical smoothie. One of my favorites is fresh fig with Crow's Dairy goat cheese (Featured on Fill Your Plate), local honey and lavender buds. And yogurt of course.

I make seasonal smoothies so this time of year I'll use pomegranates, citrus, pumpkin and dates with all kinds of spices and herbs.

What ingredients can you not do without when you're cooking?

Salt is the most important ingredient in the kitchen. I have an arsenal of different salts from fleur de sel to Murray River pink salt to good old-fashioned kosher salt. You'll always find garlic, shallots and fresh herbs in my kitchen, too. And Queen Creek (Featured on Fill Your Plate) extra virgin olive oil.

What is the most basic advice you give when you're talking to someone about cooking?

Keep your knives sharp and cook with seasonal ingredients.


The most important tool in the kitchen is a good chef's knife. We have a wonderful local knife shop in town called the Phoenix Knife House. Eytan Zias is a master at knife sharpening and he sells a wide range of knives in a variety of price ranges. He really takes the time to understand how you cook and he can pair you with a knife best suited to your style of cooking.


Shop farmers' markets to see what local ingredients are in season. Talk to the farmer about their produce. Ask them how they like to prepare the ingredients they've grown. I've learned many tips and tricks by asking the people who grow the food how they cook with it, especially if it is a variety I'm not familiar with.

Special note: Speaking of farmers, the majority of Fill Your Plate recipes are provided by farmers and ranchers from Arizona!

Share your thoughts about Arizona Agriculture.

I don't think everyone is aware of how important agriculture is to our state. I applaud the efforts of the Arizona Farm Bureau and Fill Your Plate to educate our residents and work with our local government to keep this vital industry healthy. Our farmers work hard to keep us healthy, so in turn, we should work hard to keep them healthy.

Any advice about food and nutrition?

I like to eat food that is locally grown because first and foremost, it tastes better -- far better than something that was shipped across the country or the world.


That doesn't mean I don't appreciate spices from India or coffee from Papua New Guinea ... I do. Seafood is a different story, too, because last time I checked, we're still landlocked. But when it comes to fruits, vegetables and meat, I prefer to eat local.


Eating local supports local growers and farmers so it's good for the local economy, too. Fresh food that hasn't traveled all over is more nutritious, too, so when I eat local lettuces or beets or tomatoes, I know that it's better for my body -- and my state.

Special Note: We can't forget that most of the United States gets their lettuce from Yuma, Arizona during the winter, where conditions are ideal for growing lettuce on a large scale. Agriculture we send out-of-state contributes to our economy, and since people still want lettuce in the winter, we're fortunate to have Yuma's farmers who can meet that demand.

What do you think is unique to Arizona when it comes to food, restaurants and/or anything related?

I love seeing restaurants and chefs connect with growers, farmers and ranchers. It benefits everyone -- the diner, the chefs and the farmers. We have a diverse food scene, here, too. It's not as prolific as San Francisco or New York, but we have fantastic restaurants in every cuisine imaginable and in all price ranges, from Binkley's on one end of the scale to Tacos Atoyac on the other, and everything in between. Choosing to eat at a locally-owned restaurant, especially one that sources local agriculture products just makes good sense to me. I feel very fortunate to live in a state with a rich agriculture history and a growing culinary scene.
back to main page
Videos The Journey of My Eggcellent Egg