Celebrity Q & A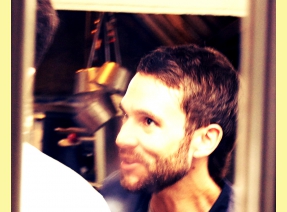 Jeff Kraus, founder of truckin' good food and ++experience++ gastro, is formally and self-trained in the Culinary Arts. Jeff's cuisine is inspired by the world around him and developed by the constant pursuit of innovation and perfection. He describes his cuisine just like he describes himself: playful, unpredictable, and detail-oriented


His most recent endeavor is taking the street food that made t'gf a locally and nationally acclaimed food truck to a restaurant. t'g crêpes & frites will open 2012. Alongside the crêpe-centric breakfast and lunch menu, there will be a variety of globally inspired desserts and snacks to choose from.

To Connect with Jeff and truckin' good food:
What created your appreciation for good Food?

My family especially my Ma. No matter how busy my brother and I were with school or activities my Ma never accepted any excuses for ordering takeaway or eating out. She made sure that we spent time making and eating our own meals together, especially supper and Sunday breakfast.

Where is a favorite place for you to eat… especially for say an anniversary dinner or any other special occasion?

I like eating my own food and spending time in my kitchen. If it were up to me I'd make my own birthday meal, but my wife on the other hand insists that I don't. My favorite local AZ spots are Noca and Posh; Café Bink for steak & frites; and in my hood, Hillside.

What's Your Favorite Dessert and why?

I love desserts but not overly sweet ones. I recently made my version of a fall pavlova for an ++experience++ dinner we had at the Cycle, Phoenix. I wasn't sure if people would get what I was going for but they did and loved it. It was composed of broken maple meringues ~ yam crémeux ~ compressed candied yams ~ raisin chutney ~ and citrus spiced syrup beads. To date, it is one of my favorite desserts I've had, and have made.

Any family traditions that involve food that you'd like to share (especially if somewhat unique to your family)?

My wife and I have a Friday night pizza night. I'll make the sponge in advance and we will make the dough and finish the pizza together. It's our time to wind down and talk about the week.

What's your favorite thing to cook and why?

I like to play with my food so I experiment with ingredients, familiar and unfamiliar, all the time. So, I don't really have a favorite thing to cook but I've been really into tubers and legumes. Both are versatile and both require additional thought in how to prepare them.

So, what inspired

t'gf and ++experience++ gastro are both inspired by my adventures; dreams; and ambition. The type of cuisine I choose for t'gf, Parisian street food, specifically crêpes & frites, was inspired by experiences that I had in France. There's a lot of passion and diversity in Parisian cuisine – it was so electrifying that I didn't want it to end. We realized, at the time, that there weren't a lot of street food options like that in the valley, shortly after being back in Phoenix, late 2009, t'gf was conceived.

Where does Arizona distinguish itself when it comes to quality food?

With organizations such as Arizona Farm Bureau and Fill Your Plate, who are dedicated to increasing the awareness in our community about the benefits of using local agriculture, we've seen an increase in access to local ingredients, and stronger relationships between purveyor and consumer. Since we started our business in late 2009, we've seen more farmer markets, restaurants and mobile food businesses, open up. These businesses are raising the bar in regards to the quality of food and character that goes into their cuisine. Arizona is becoming a culinary destination for people looking for good local cuisine.

What do you think is most important for Arizona families to keep in mind about food and nutrition?

When cooking, be mindful of what produce and ingredients are in season, let the ingredients and the weather guide what you cook and eat. Eating and cooking with the seasons will naturally put you in sync with what your mind and body craves, resulting in less caloric intake and a healthier diet.

Editor's note: To find out what produce is in season go to Fill Your Plate's section called "Arizona Produce in Season" or select this link: http://fillyourplate.org/produce-season.html

Any thoughts about Arizona agriculture?

We are lucky to have access to what Arizona's agriculture offers. There are not a lot of places in the U.S. where crops and livestock are available fresh year round.

Anything else you'd like to add for our audience regarding food and Arizona agriculture?

I recently visited my home state in the Midwest. Grocery shopping was a lot more challenging than I'm used to here in Arizona. The produce wasn't as fresh; there were limited animal proteins to choose from; and if I didn't know better, the vast range of other product offered would make it difficult to cook a seasonal meal. Take advantage of what our purveyors and agriculture has to offer – experiment with what ingredients are available, let the available agriculture products guide what you eat and cook, and share your stories with others.
back to main page
Videos The Journey of My Eggcellent Egg