Celebrity Q & A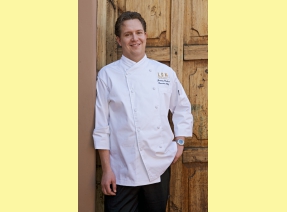 For Chef Jeremy Pacheco, the farm-to-table movement is more than a trend. It's in his DNA. His family's Arizona roots go back for nine generations, and he likes to boast that one of his great-great-uncles was the last Sheriff of Tucson do to a hanging. Growing up on the family farm in Marana, farm-to-table was an everyday occurrence; for example, they would take sweet corn and white corn right from the field and make fresh masa for tamales. Now, as a professional chef, Pacheco gets durum wheat from his father's farm for LON's house made gnocchi.
The Art of the Farm
The LON's menu reads "Artful American" cuisine and Pacheco brings an artful approach from the ground up. It's a natural that he has his own half-acre garden just outside the kitchen where he grows an abundance of seasonal products: lettuce, pumpkins, arugula, basil, coriander, fennel, onions, peppermint, chiles, strawberries, English lavender, baby oak leaf, Bloomsdale spinach, mesclun, heirloom tomatoes, tomatillos, and various types of squash and melon. Lemon, orange and grapefruit from trees scattered throughout the Inn's grounds provide fruit used in dishes and signature cocktails. The Chef's garden is all organic and he carefully sources indigenous seeds from Seeds of Change, the Desert Botanical Garden and Singh Farms.
While the garden is a true labor of love for him, it's also a natural training ground for his culinary staff. His goal is to instill in them a new-found connection to food which happens when they carefully and thoughtfully plant, water, weed and harvest. "There's an intense sense of pride and accomplishment when we serve our own delicious food to our guests," explains Pacheco. "It just doesn't get any fresher and tastier anywhere."
When Chef Pacheco is not in the kitchen or his garden, he's building relationships with local farmers and purveyors - a favorite part of his job. He's so committed to showcasing local products (80% of his produce is Arizona grown) that he also switched to buying the hotel's coffee from the Roastery of Cave Creek and tea from China Mist of Scottsdale.
The Hermosa features many Arizona wines, goat cheese from Crow's Dairy in Buckeye and dairy goat products from Fossil Creek Creamery in Strawberry. Chef supplements his own garden with the luscious products from McClendon Select Organics and Duncan Family Farms.
The Art of Teaching
Not only does Pacheco's garden serve as a classroom for his staff, but he engages them in the menu development process, showing them how to take what they grow and create new dishes to serve. He's dedicated to mentoring and urges his team to "have fun because this is really hard work and you'll go crazy if you take it too seriously!"
The Art of the Meal
Surrounded by the renowned original art of Lon Megargee, cowboy artist and builder of the original Hermosa Inn in the 30's, Pacheco is inspired to make his meals artful presentations. It all begins with the product for him and then he draws on the art of keeping things simple to highlight and showcase natural flavors. Sizzling and enticingly aromatic, the salt seared Ahi with cilantro, pickled onion and ceviche sauce is served on a natural salt rock so that each guest can cook the tuna to their preference. Every dish is a work of art from starters such as Hamachi "ceviche" and the Hermosa Arizona greens sprinkled with pecans, figs, goat cheese and chocolate-balsamic vinaigrette to entrees like Maple Leaf duck breast accompanied by a mesquite flour crepe or pan seared Scottish salmon featuring gnocchi made from durum wheat from his father's farm.
Lon Megargee's art was whimisical at times and Pacheco salutes his playful nature with his LON's Cowboy Candy Bar and Mexican Tira Misu.
"We celebrate art every chance we get at Hermosa and our customized dinners in our underground Wine Cellar are true artistic creations for my whole team," says Pacheco. The Wine Cellar celebrates the legacy of Megargee - it was an underground tunnel where he and his cowboy buddies drank and gambled, and an escape route if raided by the sheriff. Today, the Wine Cellar displays over 1,000 of the 5,000-bottle inventory and is an artfully romantic venue for dinners for two to 12.
The Artists in Residence series showcases a celebrated list of guests from a wide variety of art forms from around the country with imitate dinners, salon style, in the Hermosa Library, complemented by a fresh-from-the-farm dinner paired with unusual wines.
According to Pacheco, "Then there's the art of pleasing our guests -- which is really number one. We never forget that."
The Art of the Journey
In addition to working on the family farm, Pacheco's first job off the farm was washing dishes at 16. All of a sudden, something inside him gravitated to cooking. Leaving the dirty dishes behind, he began working as a lead cook at the Sheraton El Conquistador in Tucson. When a co-worker left for the CIA, it dawned on him that this newfound interest could actually be a career. Soon after, he enrolled in the Scottsdale Culinary Institute and received a degree in Culinary Arts and Restaurant Management.
After graduating, he traveled north to Scottsdale and The Phoenician's Terrace Dining Room, working his way up from prep cook to Chef de Cuisine. After seven years, he was lured to Vegas for a stint as Chef de Cuisine at Wynn's SW Steakhouse and Tournant Chef for all Encore and Wynn properties. Most notably, he was Chef de Cuisine at Society Cafe Encore which was named one of the "Best New Restaurants in America" by Esquire magazine in 2009. His talents were previously showcased in 2008 when he won the "Vegas Uncorked Bon Appetit," an Iron Chef inspired competition for master chefs of Las Vegas.
In 2010, Pacheco joined Hermosa Inn in Paradise Valley as Executive Chef where he was finally able to marry his love of cooking with his farming roots.
How does someone with so much going on possibly relax? With his baby son, a little golf now and then, and escaping all the pressures by stepping back on the kitchen line several times a week, grounding himself in the basics like simply braising a piece of meat.
What created Your passion for cooking?

My mother and grandmother are great cooks; I always helped in the kitchen. But my first job was washing dishes at 16 and it got into my blood from there.

Besides Lon's at the Hermosa Inn, where is your favorite place to eat?

My friend runs Atlas Bistro near Old Town Scottsdale…Very farm to table… Menu is always changing.

What's your favorite dessert?

We have a "candy bar" on the menu now that has salted caramel, Marcona almonds and spiced chocolate in it. It's great. I have to keep myself from eating one every day. The savory aspects of the dessert are what I like most; I don't like desserts that are too sweet.

Tell us about your favorite foods and why?

We always made tamales around Christmas. My dad would grow white corn we would use to make maza. We would spend a day picking and cleaning the corn. I don't think I appreciated the experience as much then as I would now.

What's your favorite thing to cook?

I enjoy braising meat, slow cooking - Especially when it's cold out. Veal shank, lamb shank or shortribs…

Tell me about your "farm to table cuisine" effort at the Hermosa Inn?

Right now about 90% of our produce is sourced from local, phoenix area farmers; we have one dish that uses Arizona raised beef; Crow's Dairy in Buckeye provides us with a selection of goat cheeses; we use olive oil from Queen Creek; Green Valley Pecans, Pistachios from Florence; our bar specializes in serving only AZ made beers and we currently have about 12 AZ wines on our wine list and that is always growing.

It is very important for Lon's to source local, our number one reason being because of the freshness of the produce, but also to support local business. Being 9th generation from Arizona, I take much pride in being able to source from in state. We also have a ½ acre garden on property that allows us to play with a few different things as well. It allows our cooks to see what goes into growing produce from beginning to end, and hopefully appreciate the product we have more.

Also, I hear you're developing a beer with Sonoran Brewery using Arizona Durham wheat.

We are. Layrd Mahler from Sonoran Brewing contacted us about doing a chef's series of beer – one for every season this year. My chefs and I have developed the inaugural spring beer recipe with the brewer – Zach Schroeder. It's going to include; Durham wheat from my families farm in Marana, Fennel from our garden and Bob McClendon's McClendon's Select, fresh green peppercorns from Singh Farms, Coriander and possibly some fresh citrus as well. We are very excited about the project.

What ingredients can you not do without when you're cooking?

I use fennel in just about everything. My sous chefs and cooks make fun of me. I'm not sure where it came from; I just enjoy the freshness of it.

What's the most basic advice you give when you're talking to someone about cooking?

Have fun, experiment and don't take it too seriously. Buy what's in season and do little experimenting with it.

If you find something great and fresh at the farmers market appreciate the product.

Share your thoughts about Arizona agriculture.

The Fill Your Plate videos hit on how great the climate is for agriculture. I think many people do not realize this. We have great weather nearly year round – the hardest time to grow being during the extreme summer months which is when the cotton is doing so well.

People from other states think that we are a desert and nothing grows here. It is great to see the rising growth in popularity of famers markets all over the state… it is also very exciting to see the great quality of the AZ wine that is being produced now.



Any advice about food and nutrition? Buy what's fresh and in season… Try to support the farmers markets… You can't beat the freshness and quality that is being sold at the local markets now…

What is unique to Arizona when it comes to food, restaurants and/or anything related to Arizona and food and agriculture? I am trying to work on Arizona cuisine that is not necessarily southwestern. I think that Arizona cuisine is food made with locally grown or raised products. We can use products that the native Americans used to use as well. We currently use tepary beans that are locally grown that thae native Americans have used for hundreds of years. We are also using mesquite flour and mesquite syrup. The increased amount of products that we are able to source locally now is helping us as chef's redefine what Arizona cuisine is. It doesn't have to be Mexican food or have chili's in it. We can start to create food from a very diverse culture and products…




back to main page
Videos The Journey of My Eggcellent Egg