Celebrity Q & A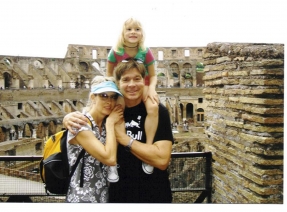 Kellie and Kirby Chambliss are an internationally-renowned competitive aerobatic couple living an exciting and busy life but still finding time to eat well and eat healthy. The secret is wife, Kellie's, cooking who shares her thoughts on cooking below.
Kirby Chambliss is a World class aerobatics pilot and competitor in the Red Bull Air Race World Series where he won the championship in 2006.
Winning top honors in his very first aerobatic contest, Chambliss worked his way up to the elite "unlimited" level. In 1997, he became member and then captain of the
US Aerobatic Team
. He won five U.S. national championships and multiple medals at the world championships.
Chambliss enjoys performing in traditional
air shows
throughout the year when he is not training or competing. In fact, Chambliss will be performing at Luke Air Force Base March 17-20th.
To stay in shape for enormous
g-forces
and exact timing, he trains three times a day and four days a week in the sky. ... and eats healthy thanks to Kellie.
Kellie advocates home-cooked meals when possible and nutrient dense foods as part of your diet.
A pilot with more than 24,000 logged hours of flying, Kirby Chambliss, his wife and fellow pilot, Kellie and their daughter Karly Nicole live in Eloy, Arizona.
What created your passion for cooking?

My passion for cooking was fueled by a desire to eat really delicious and nutrient dense food.

Where is your favorite place to eat?

Our favorite place to eat is The Creative Cafe in Casa Grande. The atmosphere is "feel good" and the food is great, with a huge selection.

What's Your Favorite Dessert?

My favorite dessert would have to be German Chocolate Cake, however, I don't indulge very often.

Any family traditions that involve food?

I think there are more traditions than we realize. Of course we bake lots around the fall and holiday time, with traditional dinners at Thanksgiving and Christmas. Some of the traditions that I like the most are the simple ones, like having apple cider and baked apples on the first cold day of fall.


What's your favorite thing to cook?

My favorite thing to cook ......... oh gosh ......... I love to cook duck with fresh acorn squash and promegranate seeds.

What's the most basic advice you give when you're talking to someone about cooking?

My advice on cooking? I don't give that too often, I'm usually taking it, ha ha!

If I did it would be to eat simple food, nothing out of a box or a bag and if you can't read the ingredients, then you should not be consuming it.

What ingredients can you not do without when you're cooking?

WOW, butter, safflower oil, and salt!

What's it like feeding a competitive aerobatic pilot?

I am very fortunate, Kirby is very easy to please, but recognizes the need to eat healthy. I think in the last 21 years, he has only turned his nose up at two meals and they were really bad. I remember him trying to eat one and I finally said, "Let's toss this."

He was relieved!

Living in Arizona, what's been the biggest surprise about the state's agriculture?

Variety. I'm impressed with how much we have in Arizona. The choices, not only food itself, but the quality of the produce is incredible.

When I go other places, I'm disappointed in other produce aisles out of state. Why can't they get what we have?
back to main page
Videos The Journey of My Eggcellent Egg