Celebrity Q & A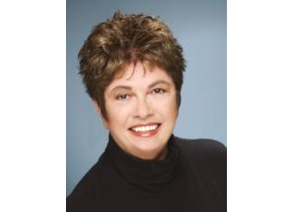 Mary Jo and her husband, Tony, moved to Phoenix in 1995. Although a Buckeye by birth, Mary Jo lived most of her life in Fort Wayne, Indiana, where she and Tony raised their three daughters, Beth, Kelley, and Erin. They currently have six grandchildren, four of them living in the Valley.
Before moving to Phoenix, Mary Jo worked for the Archdiocese of Indianapolis, as administrative assistant to the Archbishop and the CFO. Until 2006, she was executive assistant to the Auditor General of Arizona. She would jokingly tell you that her career has taken her from "church to state."
Since moving to Phoenix, Mary Jo has become a
regular on KEZ
with her Monday morning segment "
MaMa Jo's Monday Meals in Minutes
." She was also a frequent guest on the "Cooking with Beth and Bill" television show. As spokesperson for the Irish Gift House, she wrote the "Mama Jo's Chatterbox" column for their newsletter, "The Shamcus" for many years. In her column, she repeatedly recalled fond memories of Notre Dame, which she referred to as "Golden Moments under the Golden Dome."
Mary Jo's profound love for the University of Notre Dame began many, many years ago when she, as a young girl, attended football games during the Leahy years. Her Saturday visits to the campus and stadium continued throughout her life, as her love for the University continued to flourish. Since moving to Arizona, her trips to "The House that Rock Built" are less frequent, but she makes it her goal to attend at least one home game every year. Mary Jo will tell you that her motto is "It's All In the Name and the Name is Notre Dame!"
Of course, she's a friend of Arizona Farm Bureau too. We're partial to her because she's known about the Farm Bureau family since her childhood. "Having grown up in a small town in North West Ohio, I have always had an affinity for the work farmers do," said Mamma Jo. "The Farm Bureau was a much respected and popular agency in Paulding. I would consider it a compliment to be the AZ Farm Bureau's [February] celebrity."
Mary Jo's Grandmother, Mary, ran Geha's Restaurant in Paulding, Ohio. Perhaps some of the farmers and ranchers from that area remember the restaurant. If so, contact Julie Murphree at
juliemurphree@azfb.org
. Julie will let MaMa Jo know about it!
What Created Your Passion for Food?

I grew up in a family-owned restaurant and was surrounded daily by delicious comfort food and my grandmother's incredibly delectable pies.

Where is your favorite place to eat?

Corbin's Bar and Grill. That is a natural because it is owned by my daughter and son-in-law and serves great food. I also always enjoyed eating at an Amish Inn in Nappanee, IN. It is difficult to compete with Amish homemade chicken and noodles.

What's your favorite dessert?

Lemon meringue pie.

Any unique family traditions involving food?

My grandparents came from Damascus, Syria; therefore, Middle Eastern dishes were always a favorite on special occasions.

What's your favorite thing to cook?

"Lubee." A dish my grandmother made which consists of sirloin beef tips, fresh green beans, onion, and tomatoes served over rice.

What's your most basic advice to someone about cooking?

Keep it simple.

What ingredients can you not do without when cooking?

Extra virgin olive oil and fresh garlic. Also, parsley, sage, rosemary and thyme.

What's your strategy for making time for family around the dinner table?

Whenever possible, prepare food in advance, be organized, and always double recipes for freezing.

Share your thoughts on Arizona-grown food.

I always look for Arizona-grown labels on produce. Arizona farmers are required by the state to follow strict rules which ensures our safety.

With the large supply of produce grown in the state, it is extremely fresh when it reaches the local markets. It was interesting to discover that Arizona ranks second in the U.S. in the production of head and leaf lettuce, romaine, cauliflower and broccoli.
back to main page
Videos The Journey of My Eggcellent Egg