Celebrity Q & A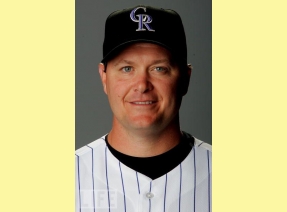 Matthew Tyler Herges (born April 1, 1970, in Champaign, Illinois ) was a Major League Baseball relief pitcher who now resides in Arizona.

Since we're in the thick of the baseball season and a favorite time to go out to the ballgame is summer, we're featuring another baseball player on Fill Your Plate's Celebrity Q&A.
Herges is an alumnus of Illinois State University and is the brother-in-law of former Major League Baseball player Todd Hollandsworth.
Herges was signed by the Los Angeles Dodgers as an amateur free agent in 1992. He then played with the Adelaide Giants, at the time, an affiliate with the Dodgers organization in the Australian Baseball League. Herges would make his Major League Baseball debut later that year with the Los Angeles Dodgers on August 3, 1999.
Herges tied outfielder Steve Finley for being one of only two players in MLB history to play for every team within a five-team division. Herges has appeared for every team in the National League West. He tied this record on April 19, 2007.
Herges appeared in the 2007 World Series as a member of the Colorado Rockies, where they were swept 4-0 by the Boston Red Sox
On January 16, 2009, Herges signed a minor league deal with the Cleveland Indians, and was invited to spring training. He started the season in Triple-A, and was called up to the majors on May 6. He was designated for assignment on July 4,and released on July 13. He signed a minor league contract with the Colorado Rockies on July 16.
He has been hired by the Los Angeles Dodgers as a minor league pitching instructor. And will be the pitching coach for the Arizona League Dodgers.

And, Matt loves food. We asked him a few questions and asked him if he'd mind being a part of our Fill Your Plate. He said, "You bet!" So below are some of his answers (short and sweet) to our Celebrity Q&A
What's your favorite Restaurant?

My favorite place to eat is Mastros, a collection of classic steakhouses.

What's your favorite dessert?

My favorite dessert is Butter Cake.

Any holiday traditions with the family?

I'm pretty much a meat & potatoes kind of guy and love it when the family has turkey, a ham and sweet potatoes at family holidays.

Do you cook?

I do sometimes. It's just nice to stay home with family and cook something up on the spur of the moment. So I often will grill steak and vegetables.

What ingredient can you not do without?

Salt.
back to main page
Videos The Journey of My Eggcellent Egg