Celebrity Q & A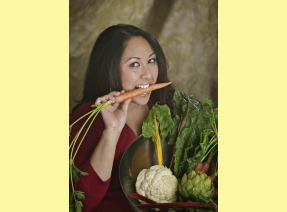 MoniQue is a Le Cordon Bleu trained private chef, also working as a diet representative for a major healthcare organization. She is passionate about food, love, & life, sharing her thoughts on Twitter as
@lafingal
and her enthusiasm for food as
@q_thechef
through her "QTips."
Originally from Tarzana, California MoniQue has lived in Arizona since 1998 where she met & married her husband Mike Shaldjian, a.k.a
@lafinguy
and managing partner of
Media Watch AZ
, a national broadcast news monitoring company. Mike is a food enthusiast & avid cook as well. The pair love to collaborate in the kitchen and often share their creations on Twitter with their thousands of followers.
Mike is also one of three founders of
Buzzcation
, a social media networking phenomenon, which promotes local restaurants while raising funds for local charities in a very informal monthly gathering. MoniQue often assists the Buzzcation team whose events attract over 200 attendees from all walks of life & areas of the valley.
MoniQue also
blogs
about food and its influence on your health, relationships & life.
What created your appreciation for good Food?

In my lifetime, I have been around great cooks and bad cooks. I should have realized that working with food in some capacity was my calling, early on, because I was so critical of everything since I was a young child.

I must confess that my father never limited the amount of fast food I could have and actually encouraged me to eat it. I quickly picked up on the terrible effects of eating unhealthy, bad quality food when my grandmother had quadruple bypass surgery and several other family members were diagnosed with heart disease. This is when I learned about food that's "good for you."

When I entered my culinary classes at Le Cordon Bleu, I learned to appreciate basic foods and gourmet foods. I also learned how to appreciate a tomato 50 different ways.



Where is a favorite place for you and Mike to eat ... especially for an anniversary dinner?

Mike and I like to celebrate at Christo's in Phoenix. The ambiance is perfect for special occasions, and you can taste the love in every dish.



What is a favorite dessert for you two?

Our favorite dessert is the chocolate mousse from Christo's. There is nothing out there like it. It's the perfect amount of sweetness and light enough to leave you guilt-free when you have hit the bottom of the dish.

We don't even

bother trying to duplicate it.

Any family traditions that involve food that you'd like to share (especially if somewhat unique to your family)?

My husband's family celebrates most holidays with a leg of lamb, rice pilaf, dolma,

Greek salad. With my addition to the family, we now also enjoy my homemade creme brulee for dessert.

What's your favorite thing to cook?

Mike and I both cook at home, but we love to collaborate in the kitchen. He enjoys cooking the proteins, especially grilling, and I love to make "the best vegetables you'll ever have."

I'm so glad that we eat lamb several times throughout the year, because that is my favorite thing that Mike makes. Although he doesn't have a sweet tooth, he quickly digs into my creme brulee, but what he will tell you is that I make the best Brussels sprouts. I never had

them until I made them for him that one day; it was all about experimentation. It turned out to be a hit and something we quite frequently serve with dinner.

With a busy schedule, how do you make sure you eat healthy yourself?

I have quite a busy schedule, but eating several small meals throughout the day is on my priority list. Mike and I don't eat fast food at all, nor do we frequent chain restaurants. When we do eat out, we make smart choices; we choose restaurants that use local, quality products. We do make several trips to the grocery store each week. I cannot stress the importance of shopping at the right place and shopping for the right products.

There is always a variety of veggies and fruits in our fridge along with different types of proteins. We believe in balance and make sure that we are not only balancing our dinners but also other meals throughout the day, as well as snacks.

Looking at this from the perspective of a chef, where will Arizona distinguish itself when it comes to quality food? Do we have any unique features in our state that give us something special to promote when it comes to food, farmers' markets and more?

I think Arizona has yet to find it's niche in order to distinguish itself when it comes to quality food. We have the lovely farmers' markets throughout the valley.

I think we need to bring more awareness to Arizona farmers, foods, and farmers restaurants. From several conversations with people, they believe Arizona is only good for cotton, corn, and milk from the dairies. I know that there is so much more to farming in Arizona, but what about everyone else?

This topic is important to me, and I am very interested in spreading the word that despite the fact that we live in a food dessert, Arizona still has a lot of great food to offer. We are happy to see that more grocers are carrying and advertising local farmers and their products.

What do you think is most important for Arizona families to keep in mind about food and nutrition?

There are so many things that Arizona families can do to keep tasty nutritious foods on the table; it just takes a little effort. The FDA's guidelines are helpful, but I believe they are overwhelming to the average person. I try to bring awareness about spices and how to properly season food. Instead of telling people that salt is bad, why it's bad, and that they shouldn't use it at all, I offer a healthier alternative.

Just because you put fruits and veggies on the plate doesn't mean you can't have an exciting meal. I chose to become a Le Cordon Bleu trained chef prior to obtaining a degree in Nutrition so that I could pair the two together and provide people with tasteful, yet healthy meals.

Any thoughts on Arizona agriculture?

With more than 15,000 farms and ranches, more Arizonans need to be made aware of the healthy and fresh alternatives available to them.

Any other thoughts you'd like to add for our audience regarding food and Arizona agriculture?

Occasionally, I see very unique items at farmer's markets. I quickly purchase these items and experiment with them because they're fresh, local produce and I have the opportunity to try something new. When other people see them, they pick up the item, have no idea what to do with it, and put it back down.

Showcasing these items could help the consumer and the farmer. I'd also like to encourage people to do as I do, try new foods, experiment with

preparation, choose healthier alternatives, and bring the family together through food.
back to main page
Videos The Journey of My Eggcellent Egg