Celebrity Q & A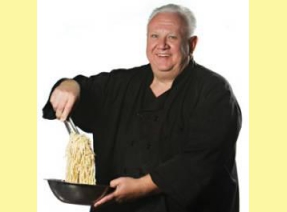 Romeo Taus is Chef/Owner
of Gilbert-based Euro Cafe since
June 1991.


For a quick bite or a sit-down meal, Romeo's Euro Café is a welcoming and inviting establishment. Open for lunch and dinner, the menu (Mediterranean influenced) is seemingly endless, cooked after the order has been placed in the kitchen, NO microwaves or heat lamps.
Appetizers (whole page) such as: Greka, Faccacia de la Provincia, Portobellini and Feta Dill Fritters get you started. The 18 salads are highlighted by the Balsamic Steak salad, DeLemono Seafood salad, Corinthian salad and unique Ravioli salad. The 26 pitas encompass everything from their featured Euroburger(homemade gyros) to Avocado Feta, Monte Karlo and Zucchini Chicken. Also subs, pocket subs and burger subs make the menu.
Romeo's also features a variety of Speciallity Entrees: Gyros Platter, Pasta Rustica, Sunflower Beef and Fillomousaka, Poultry: Garlic Chicken Pesto, Chicken Veneto and Greco-Roman Chicken, Seafood: Salmon de Provence, Balsamic Shrimp de Modena and Shellfish Tortellini, to eggplant and pasta entrees.
Hang out with
Romeo's Euro Cafe
on Facebook. His food photos will inspire!
What created your passion for cooking?

I always love to eat. Somebody once said that Gluttony is not a secret vice. A little knowledge is dangerous, so as I immersed myself in the culinary arts, the more I learned, the more I realize how little I know. In the process of learning and rediscovering the power of magic from our illustrious predecessors, the more respect I acquire for the people ( the farmers and ranchers ) that dedicate their lives to providing us the raw ingredients, without which we would be silent, and the more humble I become. Evoking an emotional response thru our food created my passion for cooking.



Where is your favorite place to eat?

My own kitchen! When I go out, I frequent places that are chef driven independent restaurants and cook food that I know very little about (Pacific Rim cuisine), places like Asia, Cyclo3.

What's your favorite dessert?

I love desserts that feature local seasonal fruit but my real favorite is something we call: The Morning After White sponge cake soaked in sangria with blackberries, white chocolate mousse and puff pastry layers, enrobed in dark chocolate ganache and served with rose petal chutney



What's your favorite thing to cook?

PORK. Growing up in Transylvania, we used to slaughter a hog or two every year. I loved seeing how it all got transformed (snout to tail) in a few hours. At Romeo's Euro Café we offer a dish that reminds me of that. Pork Molise Grilled pork tenderloin, wrapped in bacon, roasted garlic, horseradish mashed potatoes, honey caramelized onions and apricot - dark cherry sauce



What ingredients can you not do without when you're cooking?

Olive oil, garlic, onions, most of my herbs and spices (sea salt, black pepper, etc) acid (lemon, wine, vinegar) some cream, some cheese and YES …….BACON!



What's the most basic advice you give when you're talking to someone about cooking?

Systematically, educate your palate. Understand your ingredients. Stay shy with the measurements, once you add something in you can't take it out.

Share your thoughts about Arizona agriculture?

Arizona agriculture ROCKS! The farmers, ranchers, CSA, Farmer's Markets, wholesalers and retailers are very much in touch with what the consumer's request. The agriculture industry does meet the needs of the hospitality industry. As the demand increases (for sustainable, seasonal products) the supply and quality may suffer, also becomes a pricing issue. The true farm to fork concept could only work in a few zip codes. The process of educating the consumer continues….. Thank you AFBF for being a leader in that field.



Any advice about food and nutrition?

Learn and know where your food comes from. Use fresh, natural or IQF products. If you can't pronounce it don't eat it.
Stay away from any refined products and don't become a slave to fat, salt and sugar unless natural. Seasonal, peak of ripeness and moderation should rule.



What is unique to Arizona when it comes to food, restaurants and/or anything related?

There are some things that are unique to the High Sonoran Desert. Indian fry bread, products from cactus, nopales or prickly pear, cheese crisps or quesadilla or most tings in a tortilla, carne seca (marinated and sun dried beef) We got the GRAND CANYON.
As far as restaurants, I wish there would be more support for chef driven kitchen independent restaurants.
Don't let food just feed you; let it evoke a positive emotional response. Trust your Chef!
back to main page
Videos The Journey of My Eggcellent Egg