Celebrity Q & A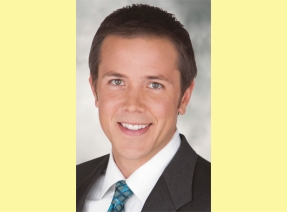 After graduating from ASU in 2001, Ryan O'Donnell is back in Phoenix working as a reporter for 3TV.

Ryan's first job was at KTTC in Rochester, Minnesota. About a year later he accepted a bureau director position for KAAL in Austin, Minnesota.
In 2003 when an evening anchor/producer position for KEPR opened up in Tri-Cities, Washington he took it.
Two years later he was in Tucson, Arizona working for 3TV's sister station, KMSB Fox 11. When his time was up there he moved to San Antonio, Texas and worked for WOAI.
In May of 2009, Ryan came to work as a reporter at 3TV.
Throughout his many television jobs Ryan has won several awards. He received his most recent award from the Associated Press for best breaking news reporting while he was in Texas.
Ryan is excited to be back in Phoenix and hopes his moving boxes will stay empty for a very long time.
And, he loves Arizona Agriculture. Having covered a few agriculture-related stories, he's learned quite a bit about this state's diversity in production agriculture.
What created your appreciation for good food?

My mom actually got me into good food. When I was old enough to help out in the kitchen she taught the cooking basics. In time, it evolved into actually making a full dinner.

In college I was putting together dinners from recipe books.

Since then, cooking has become a passion of mine. In fact, you can tell I'm into it every Sunday morning when the cooking segment comes on.

I cook, because I like to eat good food!

Where is a favorite place for you and your wife to eat ... especially for a special occasion?

We're big fans of Chelsea's Kitchen on 40th street. Each time we go, we start the night with White Sangria and the tuna appetizer.

What's a favorite dessert for you two?

We typically don't have room for dessert after enjoying a really great meal.

Any family traditions that involve food that you'd like to share?

Once a month, as a family, we'll make a pizza. Each of us picks out a topping, then we make it at home from scratch.

Our seven-year-old loves building the pizza from the dough up.

If you cook, what's your favorite thing to cook? If not, what's the favorite thing your wife cooks that you love to eat?

On a cold day I really like making potato and ham chowder in a bread bowl.

On warm days… Veal Piccata with some white wine or Jumbalaya.

With a busy schedule working for a news station, how do you make sure you eat healthy when you're always on the go?

Being on the go, I unfortunately don't always eat healthy.

If we have time, we'll sit down for lunch. Otherwise it has to be something quick, once in a while I'll grab a sandwich.

What do you think is most important for Arizona families to keep in mind about food and nutrition?

Cooking at home usually guarantees what ingredients you're eating.

It's also fun as a family if you try to include everyone. Try to stay away from processed foods and buy fresh when you can afford it.

Any thoughts on Arizona-grown foods?

I wish more Arizona grown products were more easily accessible.

I understand you can find many of them at restaurants, but we don't go out to dinner a lot.

Our farmers and ranchers are very important to Arizona's economy and if you have the chance to experience any of it, I highly recommend tasting that opportunity.
back to main page
Videos The Journey of My Eggcellent Egg