Celebrity Q & A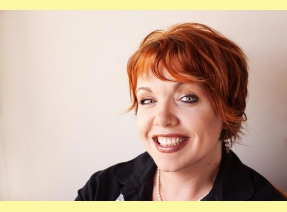 Stephanie Petersen is a classically trained chef. She worked in bake shops, restaurants, and in banquets. When she became a mom, she set aside her work in the restaurant and focused full time on raising her family and making application of the culinary arts. Cooking for the family gave her real-world experience in not only cooking on a tight budget, but learning nutrition and gardening skills.
Stephanie is also an avid solar cooker. She's published in Australian Baking Business magazine for her bread-painting. She's taught large group and personal cooking instruction for the last 7 years. During that time she started milling her own spice blends late at night to make extra money. Since then, her spices have been bottled by Honeyville Farms and will be available in grocery stores nationally in the near future! For the last two years, she has been a frequent TV guest chef on Fox 10 AZAM show. She's also been a regularly featured guest chef and "Idea Extraordinaire" on NBC12 "Valley Dish" with ratings that beat Oprah when she was featured.
This real down-to-earth gal adores teaching, laughing, loving, and connecting with new people every day.
Stephanie's Facebook Page
What created your passion for cooking?

I have a father who is a master gardener who started with me young working with him in the dirt and a mother whose passion for bread and good food put me in the kitchen with her. We'd pull food right from the backyard garden and cook it on the spot. I guess I didn't realize how amazing that gift of fresh food was until I was a full grown woman! That love for things fresh and real carried over into my adult life. Add to that a great education in Culinary Arts from Scottsdale and eighteen years of real-world experience and I'd say that a lifetime of food and a naturally insatiable desire to create is what fueled my passion for cooking.

Where is your favorite place to eat?

Is it fair to say right in the garden? I love being right where food is picked and to smell that earth and know that I'm connected to it. In all reality my favorite place to eat is right at home with my family.

What's your favorite dessert?

If it isn't chocolate it's a waste of dessert. However...if it's fresh berries or plums drizzled with an orange infused olive oil and a sprinkle of Saigon cinnamon roasted under a broiler for a few minutes, it is about as close to heaven as I can get!

What's your favorite thing to cook?

I'm a baker and adore making whole grain breads and pastries. I adore baking decorative edible breads that take people's breath away! Most often however, you'll find me cooking down-home meals with a bit of a Southwest flair. I love incorporating fresh vegetables and light sauces. I love home canning and preserving. One of my other odd specialties are shelf-stable meals and I'm passionate about helping people be prepared for emergencies as well as being self-reliant. In this economy, that is just something I feel is important. Often you'll find me cooking with dehydrated or freeze dried fruits and vegetables. I'm not a NASA chef...but I think I could be!

What ingredients can you not do without when you're cooking?

Fresh ground spices, chopped fresh herbs and flavorful vinegars are a must-have! They lend so much depth and immense flavor without a lot of extra calories to food. Anymore, that is what I'm most excited about! So much so, that I've actually developed my own spice line!

What's the most basic advice you give when you're talking to someone about cooking?

Keep your food real and the flavors true. Don't let anything drown in a heavy sauce. The meal should mingle, dance and sing to your heart. It should be beautiful...and simple.

Share your thoughts about Arizona agriculture.

I've seen the hard work of some dear friends as they work the fields and try to make an honest living. I worked as a superintendent on an organic tomato farm a few years back. I've never sweat so much in my life! Even in a bakery next to a hot oven all day! Farming shouldn't be a thank-less job. We should all be cheering for the men and women who literally carry the food to our family tables. How often do folks think about that tomato they're eating and where it came from? If you don't know who grew it...maybe you should get to know your local farmers a little better!

Any Advice about food and nutrition?

There's always advice about food and nutrition. Everyone has an opinion. Mine is again, to keep it real. Keep it simple. Keep it fresh and use a rainbow of colors, flavors and textures in your life. Nutrition can be daunting, but it shouldn't be. Buy local fresh produce, get out and pull weeds (it's the best exercise ever!), and for heaven's sake...get some beautiful fresh air now and then.

What do you consider unique to Arizona when it comes to food, restaurants and/or anything related?

I love the unique atmosphere we have here for some really outstanding culinary bliss! We have unbeatable restaurants and world-class chefs living next to some of the most remarkable home cooks around! I think that is one of the greatest joys I have as a chef and a mom, is seeing both worlds first-hand. One day I am eating something that would be served in one of the finest resorts and the next day...I'm having dutch-oven cooking over an open fire. What a perfect place for anyone who loves food!
back to main page
Videos The Journey of My Eggcellent Egg