Celebrity Q & A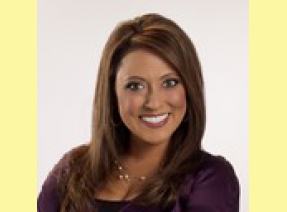 Recent Host of Sonoran Living Live ABC15 beginning in April 2007, Stephanie Sandoval is no stranger to the Valley. She comes from KSAZ-TV where she had anchored the 10pm news for nearly 5 years.

And, the Arizona connection goes even further. Growing up in South Tempe, Stephanie attended Kyrene de Los Ninos, Kyrene Junior High and graduated from Corona del Sol High School.

After spending two years at ASU, Stephanie moved to Texas to finish her college career. She graduated cum laude from Sam Houston State University in Huntsville, Texas with a degree in Radio, Television and Film.

Stephanie's first job was in the news department of a small Country-Western radio station, KVST in Conroe, Texas. She then made the switch to television as a reporter/anchor in Odessa, Texas. Following, she moved further west to El Paso, Texas next, reporting and anchoring the 5pm news. The tour of Texas continued to Houston, where she worked KHOU-TV as a Weekday Morning Anchor.

During her time as host of Sonoran Living Live, she has interviewed such notables as Zach Efron, Emerill Lagasse and Curtis Stone.

Stephanie lives in Chandler with her husband Carlos and her two sons.

She enjoys spending time at home watching movies and enjoys such hobbies as photography, cooking and baking, working out (her husband is a personal trainer), and crafting.

What created your passion for cooking?

I developed my passion for cooking over the last 5 years as host of Sonoran Living Live. I've been incredibly fortunate to be able to personally get to know fellow foodies from at home cooking school chefs to many of the valley's premier chefs at incredible restaurants. Learning the recipes alongside them in the kitchen and then being able to take those recipes home has motivated me to get out of my casserole comfort zone and try more complex recipes. But! One of my favorite cookbooks is still one filled with casserole recipes!

Where is your favorite place to eat?

I have so many favorites! I love T Cook's at the Royal Palms, Roy's in Chandler, Cask 63, Village Tavern, and they know my family by name at Z Tejas in Chandler. On my bucket list right now is Dominick's Steakhouse at the Scottsdale Quarter. I met them on the show and the restaurant looks beyond amazing, with it's retractable roof!

What's your favorite dessert?

I love the comfort of a good old slice of apple pie and also anything warm and chocolatey. But, I haven't met a truffle I like. Too, too rich!

What's your favorite thing to cook?

I like to mix it up. I like to make this Chicken Picatta I learned from a cookbook coming out from Michelle Dudash and my hubby's favorite is the Spicy Citris Pork that I learned from Chef Jon Paul with Le Cordon Blue.

What ingredients can you not do without when you're cooking?

I put garlic in almost everything and I always use shallots when it calls for onions. And I use Kosher salt instead of iodized. Organic meats and veggies when I can.

What's the most basic advice you give when you're talking to someone about cooking?

I tell them to watch videos online on how its made. I think the devil is in the details and sometimes it's where our recipes fall short of our expectations.

Share your thoughts about Arizona agriculture.

I have come to know and love many of the locally produced veggies that I have been introduced to by many of the chefs in town who use them. I love the collaborative approach to supporting local restaurant and local farmers!

Any Advice about food and nutrition?

Being married to a personal trainer, you'd think that I wouldn't be able to enjoy all the delicious food that I see on the show. But, I've come to learn that enjoying food and still keeping nutrition in mind requires you to have balance in your life and a conscientious approach to wellness. You can enjoy meals rich in calories, but you have to do so in moderation. I think when you can create an appetite for healthy grains and veggies with flavorful recipes you can enjoy other parts of your plate that are higher on the guilt scale.

What do you consider unique to Arizona when it comes to food, restaurants and/or anything related?

I love fact that we can enjoy tamales any time we want! You can go to other parts of the country and the Mexican food is not as authentic tasting. But, without border influence, I think we are fortunate to have all regions reflected in a host of different restaurants!
back to main page
Videos The Journey of My Eggcellent Egg