Celebrity Q & A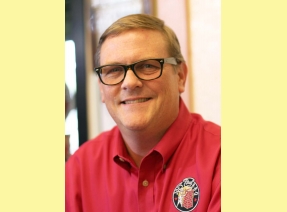 Tad Peelen of Gilbert co-owns two award-winning eateries, Joe's Real BBQ and Joe's Farm Grill.
Catch up with Tad on Twitter @joesrealbbq or FaceBook Joe's Real BBQ.
What created your passion for cooking?

I love comfort foods with flavor. I'm no chef de cuisine, but can make you one of the best grilled chicken sandwiches, steaks or burgers you've ever had. Thankfully, we have surrounded ourselves with gifted folks at both of our restaurants that have taken comfort foods to a whole new level of sophistication and flavor profile.

I love food with "sabor" or flavor!

Where are your favorite places to eat?

When I can't eat off my own home grill, there are plenty of local choices. I stress local because I am pretty committed to keeping tax dollars in my own town. I live in Agritopia so walking to the Grill in our own community is fun.

Downtown Gilbert we love Liberty Market and the BBQ.

As you can sense, I'm really not a fan of national chains. Independent operators seem better equipped to show care for their craft and their customers. Nando's Mexican Cafe in Gilbert is a treat when I'm in the mood for something from south of the border.

I look forward to Postino opening in downtown Gilbert soon, as they have done such an awesome job in Arcadia.

What's your favorite dessert?

Strawberry shortcake made by the Kitchen Manager Darryl "Big D" Jansen at Joe's Real BBQ for special occasions.

He makes from-scratch biscuits, and tops them off with fresh berries and whipped cream. It's so simple, yet bursting with so much sweet flavor. The Pizookie at Oregano's isn't bad either!

What are your holiday traditions with food?

Family and food go hand-in-hand for the holidays, so we like to host gatherings at our home. It becomes even more special as your children move away and make the trek back home. We tend to like the potluck approach, so nobody has too much of a burden yet everyone gets to contribute and you get excellent variety.

What's your favorite thing to cook?

Grilled salmon. I have a top-secret concoction that I prepare just for my salmon (hint - BBQ sauce is amazing on most fish). I usually grill fresh asparagus and corn to complement the fish.

What ingredients can you not do without when you're cooking?

No surprises here -- BBQ sauce! Surprisingly, I am allergic to olive oil, so that stays in the pantry when I cook.

What's the most basic advice you give when you're talking to someone about cooking?

If it tastes good, you've done an excellent job. Just because the screaming TV chef throws 19 ingredients in his spaghetti doesn't mean you need to. Simple is good.

Share your thoughts about Arizona agriculture.

I don't think you need to have grown up here to recognize the historical and current importance of agriculture. The Roosevelt Dam and the canals allowed Gilbert to become the Hay Capital of the World in the 1920's. Today we serve the bounty of the Farm at Agritopia at the Grill. I hope the trend towards "farm to fork" dining continues. Our daughter is an Agriculture Communication and Journalism major at Texas A&M, so we're committed at the family level too!

Any advice about food and nutrition?

My physician gave me some great advice recently. He said if I wanted to eat healthier I needed to leave more on my plate. Since this was in direct conflict with Mom, it raised my eyebrows a bit. And since I eat out so often the notion of paying for an entree and not relishing every morsel doesn't sit well. But his point is well taken. As a nation we have insisted that restaurants give us huge portions and unlimited drink refills. If we moved away from those unhealthy notions, I don't think we'd have to stress so much about how much sodium or how many calories were on our plate. Instead... worry about flavor!
back to main page
Videos The Journey of My Eggcellent Egg