Video Archives: Arizona Cantaloupe: Yum!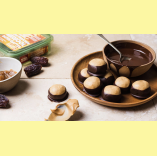 Featured Recipe
Peanut Butter Buckeyes
1. In a large bowl using a hand mixer, mix together the date paste, melted butter and peanut butter. 2. Add in the powdered sugar and ½ cup at a time and fully blend. 3. Use your hands to roll out 9 balls and place on a baking sheet lined with parchment paper and place toothpicks in the centre of each, transfer to the fridge while melting the chocolate. 4. Place a deep heat proof bowl over a pot of rolling water and place the chocolate and the coconut oil and allow to melt, stirring to mix together the chocolate and the coconut oil. 5. Remove the balls from the fridge and using the toothpick to pick them up and dredge them ¾ of the way in chocolate. 6. Repeat with the remaining transferring them back onto the parchment paper lined baking sheet and back into the fridge to chill until the chocolate has set. 7. Remove toothpicks and use your finger to smooth out the mark (optional) 8. Store in the fridge and remove to enjoy! *While Medjool dates are high in natural sugars, they are low on the glycemic index thanks to a balanced amount of soluble fiber. The complex carbohydrates found in Medjool dates are digested at a slower rate, making them a source of dietary fiber and releasing energy to the body over a longer period of time.
videos