Celebrity Q & A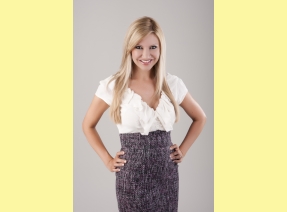 Follow: @careypena3tv
Carey Peña is an Emmy award winning journalist who majored in broadcast journalism at Arizona State University.

During her senior year, Carey worked as a news and sports reporter for ASU's acclaimed magazine show Newswatch. At the same time, she interned at KTVK. After graduation, Carey was hired as a news writer and special-projects producer at KTVK before beginning her on-air career.

She currently anchors the 3TV News at 10pm Monday through Friday.

Carey's work has helped solve decades old homicide cases, prompted renewed police investigations, uncovered questionable decisions by high ranking public officials, and aided in finding missing people. Her stories have affected change in many areas.

While at KTVK, Carey has covered a number of major breaking news stories including the September 11th attacks; wildfires in both Arizona and California; Operation Iraqi Freedom and the War on Terror; and local and national elections, including live coverage from Denver and the Democratic National Convention.


Carey is actively involved in the community and is in demand for public speaking and charitable functions. If you have a story you'd like to pass along, email Carey at cpena@azfamily.com .
What created your passion for cooking?

When I was 18 and moved away for college, I started cooking at that time. I loved to make dinner for friends and enjoy time hanging out.

That love has only continued to grow! Fortunately, I have some great family recipes. My background is part Greek and Spanish so good food and good conversation is highly valued at my house!

Where is your favorite place to eat?

That's a tough question because there are so many fantastic chefs and fun restaurants here in Arizona. I'd have to say The Herb Box in DC Ranch is one of my favorites. They always have amazing, unique dishes. Clearly the chef puts a lot of time into using creativity and fresh ingredients. I also love T Cooks at The Royal Palms.

What's your favorite dessert?

Rice pudding has to be my favorite. That's a Greek specialty.

What are your holiday traditions with food?

I have twins who are a year old now so I look forward to building family traditions. Thanksgiving was always a big deal at our house - truly a time to just sit down and enjoy with family. I've added a Mexican macaroni and cheese dish to the menu and it's been a big hit. I use three types of cheese, make it really spicy and bake it in a cast iron skillet.

What's your favorite thing to cook?

I tend to gravitate toward more complex dishes – I'm not sure why. Maybe I feel more accomplished when all is said and done! Plus it is so much fun to play some music, have a glass of wine and try out a fabulous recipe. When I have time, I love to make Avgolemono - Greek Egg-Lemon Soup.

What ingredients can you not do without when you're cooking?

We eat really healthy so my husband and I cook with a lot of extra virgin olive oil, lemon and garlic. Also, cayenne pepper.

What's the most basic advice you give when you're talking to someone about cooking?

Have fun with it. And plan ahead!

Share your thoughts about Arizona agriculture.

It's so important to buy local whenever possible.

Also, any chance I get to visit one of our many Farmer's Markets around town, I'm there!

Buying fresh and local not only makes me feel good, but it also helps support Arizona agriculture which is huge. We have to help our farmers!

Any advice about food and nutrition?

As much as possible I try to steer clear of processed foods and sugar. I never diet. On a day-to-day basis, I try to eat fresh foods that keep my body fueled up and ready to take on this hectic (but wonderful) life I'm living.


And as a mom it is extremely important that my twins eat healthy, clean foods. Those babies love avocadoes!
back to main page
Videos The Journey of My Eggcellent Egg