Celebrity Q & A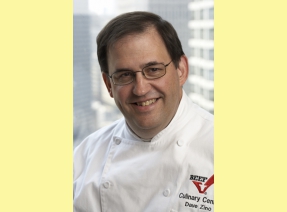 Dave Zino serves as the Executive Chef and culinary spokesperson for the Arizona Beef Council and the National Cattlemen's Beef Association which is the leading food authority on beef and veal.
In this role Chef Dave wears many hats that range from industry expert, to public speaker, to writer and television personality. Dave helped launch Beef U: A Foodservice Guide to Beef – a comprehensive, in-depth and customizable "train the trainer" program designed to provide the foodservice industry with the latest beef product information and knowledge. Dave also assisted in revising the award winning publication Creating Crave: A Professionals Guide to Flavor. He was a contributor to the The Healthy Beef Cookbook and in November 2007, Drovers – Americas beef business source – featured Dave as the "Dean of Beef University."
An excellent public speaker and dynamic on-camera personality, Dave is frequently seen on television, heard on radio and quoted in print. During his appearance on the popular Food Network program "Unwrapped," he revealed tips on how to make the perfect burger. In 2008, 2009 and 2010 he made several appearances on "Healthy Flavors of America," a public television cooking show. In addition, Dave travels the country telling the beef story to universities, professional organizations, dietitians, culinary schools and industry groups.
Dave's writing has been published in Food Product Design and also appears in "An Integrated Approach to New Food Product Development." He wrote the chapter entitled, "The Right Preparation Technique," which focuses on meeting consumers' needs with fully tested products and recipes that really work. In 2004, Culinology magazine chose Dave as their "Featured Chef" and in 2008 Meat & Deli Retailer and Progressive Grocer magazines featured his articles.
Dave holds a Bachelor of Science degree from Illinois State University, three culinary certifications from Kendall College and a Certification in Menu Research and Development from the Culinary Institute of America. He is a member of the Research Chef's Association and the International Association of Culinary Professionals.
When not working on a new beef dish, you can find Dave working his community garden plot or riding his bike along the lakefront. Still heartbroken by the '69 Cubs demise to the Mets, he remains loyal to them today. Lastly he loves burgers.
Social Media Channels
:
Arizona Beef Council Twitter: @ArizonaBeef
https://www.facebook.com/BeefItsWhatsForDinner
Beef. It's What's For Dinner.
What created your passion for cooking?

I always liked to cook. My first job was a dishwasher / busboy at a banquet hall. Cooking is a very giving occupation. There is always something to learn, evolving ingredients, new techniques, etc. Even though the hours are long and work is hard, at the end of the day it's very rewarding.

Where is your favorite place to eat?

Be it Phoenix, Chicago or New York, I really like bistro cuisine. Nothing beats classic French cooking. Steakhouses are also fun, especially non-chain Steakhouses.

What's your favorite dessert and why?

Anything loaded with pastry cream.

Tell me about your traditional family favorites. Any fun stories behind your family celebrations?

Growing up, taco night was always a big hit in our house and Sunday was always beef roast day and then on Monday night we sliced the leftovers and would simmer them in gravy and make hot roast beef sandwiches.

What's your favorite thing to cook?

Beef – of course. I really love braised beef dishes such as short ribs, pot roasts and beef stews. The long, slow cooking process really brings out the hearty rich flavor of beef. A great steak on the grill can't be beat either.

What ingredients can you not do without when you're cooking?

The pantry staples like garlic, anything in the onion family, cracked black pepper, kosher salt and veal stock.

What is your favorite advice to give about cooking beef?

Cook steaks and roasts to medium rare (145 degrees) and cook burgers to medium doneness (160 degrees). Always use an instant read or oven-proof thermometer to determine doneness.

If you want to learn more about beef, go to http://www.arizonabeef.org/


What's been most rewarding about being Arizona Beef Council's Executive chef?

Meeting so many nice people at the events we attend. I really enjoy teaching people about beef and how to cook it.

Any advice about food and nutrition?

Beef is not only great tasting but it is good for you as well. There are more than 29 cuts of beef that qualify for government guidelines for lean. Some of your steakhouse favorites like T-Bone, NY Strip and Tenderloin are part of that list. I like to say beef is nature's best tasting multi-vitamin, loaded with zinc, iron and protein. We love to share the plate with whole grains, green leafy vegetables and fiber-rich foods.

What is unique to Arizona when it comes to food, restaurants and/or anything related?

The moderate climate allows chefs to have fresh produce year round and gives chefs the opportunity to support local farmers. I enjoy seeing traditional southwest dishes fused with fresh new ingredients. For example the Korean Taco rage.
back to main page
Videos The Journey of My Eggcellent Egg