Celebrity Q & A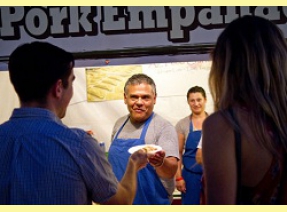 Chef Eddie Castillo of AZ Food Crafters (www.azfoodcrafters.com)

Called AZ Food Crafters and located at 961 West Ray Road (on the southeast corner of Ray Alma School Roads),this bakery sells signature hand pies. With a focus on locally sourced ingredients, AZ Food Crafters fills its dozens of scratch-made hand pies with sweet fillings (for example, Burning Love is made with dark chocolate, housemade blackberry and raspberry jam, and ancho chiles) as well as savory ingredients for pocket-style meals like the Veggie Greek, Buffalo Bleu Chicken, and Italian Sausage and Peppers.
What created your passion for cooking?

When I realized the immediate reward of someone enjoying something I created. It drives my passion to this day.

Where is your favorite place to eat?

Honestly, I would rather cook....seriously, I would rather cook......but if I must I would pick something I love, like pizza at Spinato's or guacamole and margaritas at Barrio Cafe, or a filet and twice baked potato at The Keg, it really depends on the mood. The theme this year is to try something new and trendy for special occasions, but I'll probably be too busy making hand pies and end up cooking.

What's your favorite dessert?

Anything with chocolate, whether it's Salted Brownies or Chocolate Black Forest Bacon Truffles, or my favorite, good ole Chocolate Chip Cookies, anything with chocolate really.

What's your favorite thing to cook?

Sunday dinner, it usually involves slow, all day cooking and is ultra special like a braciole, braised short ribs, enchiladas or lasagna all made from scratch and with love of course.

What ingredients can you not do without when you're cooking?

wFresh ingredients, a selection of fresh herbs, citrus, quality meats, and the love and passion to enjoy the time spent cooking

What's the most basic advice you give when you're talking to someone about cooking?

Preparation: Read your recipe, Prepare your recipe, cook and have fun!

Any advice about food and nutrition?

East what you love, just make sure it's fresh.

What do you consider unique to Arizona when it comes to food, restaurants and/or anything related?

Arizona's most unique in it's southwest/mexican cuisine influence...wether its green chile pork stew, street tacos, palletas (mexican fruit pops) or chiles rellenos, you can find some of the best in Arizona.
back to main page
Videos The Journey of My Eggcellent Egg