Celebrity Q & A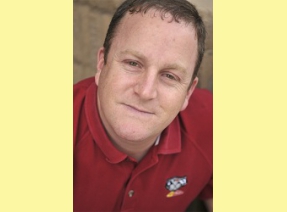 Jon Bloon is in his 9
th
season as the Public Address announcer, backup play-by-play broadcaster and radio & TV host for the Arizona Cardinals.
Along with working for the Cardinals, Jon is also the host of the Phoenix Suns "Planet Orange Pre and Post game shows" and a top fill in host on Arizona Sports 620 in Phoenix, the flagship home for the Cardinals, Suns, Diamondbacks and Arizona State University.
The man many refer to as "Bloomer" served as a play by play voice and sideline reporter on Touchdown Radio's national broadcasts of the College Football Game of the Week, and works behind the scenes for CBS Sports' nationally televised coverage of the PGA Tour at the Masters and Pebble Beach.
He can also be seen locally as a frequent guest analyst on ABC 15's Sports Sunday as well as CBS 5, 12 News, and AZTV's "McMahon Group" here in Phoenix.
When he's not on the air, Jon stays busy as the Founder and CEO of
golfmix.com
, an online golf community launched in early 2011 and currently the leading source of golf course reviews in Arizona with expansion into other regions expected for this fall.
Jon graduated from Syracuse University with a major in Broadcast Journalism and the honor of being named the Bob Costas award winner in 1997. While at S.U. he called the action of Orangemen football, basketball and lacrosse as well as minor league baseball for the Houston Astros single-A affiliate in Auburn, NY.
After graduation, he was hired by Sportsradio 1130 The Fan in Detroit, where he served as an Anchor/Reporter/Host for six years. In addition to covering the Lions, Red Wings, Tigers, and Michigan and Michigan State, Jon was a host of the Pistons pregame, halftime and postgame shows and handled the play by play duties for Oakland University basketball and Wayne State University football. In addition, he spent seven years as a co-host of a syndicated radio and TV show called "Michigan Golf Live."

Jon, his wife Jill & their dog Cal moved to Arizona in November of 2003. They had their first baby, a little girl named Marlee in July of 2006, and their 2nd daughter Anya was born in January of 2009.
What created your passion for cooking?

My passion is definitely from my family and upbringing. From my grandma Sophye's baked salmon that makes my mouth water every time I think of it to my Mom's potato pancakes that gave the house the most amazing long lasting aroma, I can remember being excited about home cooked food since I was very little.

Where is your favorite place to eat?

Any place that makes good fresh ingredients tastes great! I'll always have a soft spot for Benihana after celebrating virtually every birthday there as an adolescent. Also a nod to Binkley's in Cave Creek which has provided me with the consistently mind-blowing culinary experiences over the last few years.

What's your favorite dessert?

I've got to give it to my brother's homemade Mocha Chocolate Mousse. It's more sinful than it sounds and could probably solve all of the world's problems if used properly.

What's your favorite thing to cook?

I love to grill my own version of surf and turf with an owe to my grandma's salmon (marinated in russian dressing) and a little home made Teriyaki Flank Steak. I'm also known for making a killer "old school" Caesar salad from scratch (thanks to my good friend Scott from our days at the 'Cuse).

What ingredients can you not do without when you're cooking?

Onions, garlic, some good tunes and a large helping of patience (especially when cooking for my 3-year-old and 6-year-old daughters).

What's the most basic advice you give when you're talking to someone about cooking?

It's just like learning to drive. You have to follow directions closely until you get the hang of it, then before you know it you'll find yourself putting it in auto-drive and cruisin.

Share your thoughts about Arizona agriculture.

I come from not only a family of cooks, but a family of gardeners and was taught at an early age how important our farmers and fruit and vegetable growers are in this country. What it boils down to is without quality grown fresh ingredients, good food would be as hard to find as a good replacement ref in the NFL!

Any Advice about food and nutrition?

I've learned an awful lot about this topic over the last two years after being diagnosed with Crohn's disease and completely altering my diet to eliminate gluten and dairy along with several other key ingredients. I'm a huge believer that our bodies respond differently to the things we fill them with. My suggestion to anyone with digestive issues is to address that issue by getting tested and determining what foods (no matter how difficult it may be) to stay away from.

The technology today allows us to get a much better idea of what we should and shouldn't eat and has definitely made a difference in my day to day life.

What do you consider unique to Arizona when it comes to food, restaurants and/or anything related?

I think Arizona is unique because it brings together tastes and backgrounds from all over the place. I do enjoy the "Southwest" style cuisine, but I think that because it is such a desirable place to live and visit, we are lucky to attract a lot of bright culinary minds that run the gamut in style and approach. You can have a life altering food experience in a place that looks like it's straight out of a Western movie (Cave Creek), head south to Phoenix and line up for hours to taste what some have called the "best pizza in the world" or get up early to beat the crowds to the best tiny little "Big Breakfast" spot you'll ever find. I think it's already unique here, and will continue to get more unique in the coming years.
back to main page
Videos The Journey of My Eggcellent Egg