Celebrity Q & A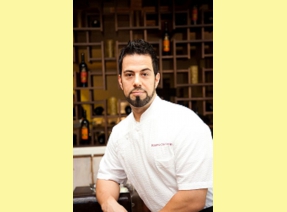 Canadian-born chef Massimo De Francesca is executive chef for Kimpton's Taggia at FireSky Resort and Spa in Scottsdale. The coastal Italian cuisine suits De Francesca perfectly as he blends his passion for experimenting with new tastes with traditional flavors.
De Francesca's international culinary experiences have led him to positions in such places as Toronto; Torino and Cesenatico, Italy; Georgetown, Cayman Islands; Arlington, Virginia and most recently in Manhattan, New York. After studying the culinary arts at George Brown College in Toronto, he gained unparalleled work experience at Lido Lido Ristorante under Michelin star Chef Vincenzo Cammerucci as well as at the Windsor Arms Hotel and Bouchon Bistro with Jean Pierre Challet. In 2001, during his apprenticeship with Challet, De Francesca was honored with an invitation to cook alongside his mentor at a special James Beard House dinner event.
Chef De Francesca joined the Kimpton team in 2008 as the executive chef of Domaso Trattoria Moderna in the Washington D.C. area. He then relocated to New York City as the city-executive chef of NIOS restaurant at Kimpton's The Muse New York and Silverleaf Tavern at 70 Park Avenue hotel. While in these roles, De Francesca was highlighted at a variety of notable events including the Taste of Time Square and Food Network Food & Wine Festival. He later went on to become the city general manager and chef for both properties, gaining front-of-the-house knowledge that he continues to apply at Taggia.


Classic in his training yet innovative in his approach, Chef De Francesca has created a menu of Italian fare at Taggia that connects tradition with contemporary musings.
Elevating classic cuisine to modern heights, signature dishes find new life with forward thinking touches. Menu favorites include Baccala fritters with hearts of palm; "vitello tonnato" with tuna emulsion, pickled eggs and gherkin pesto; Southern California fresh burrata with local heirloom tomatoes and crystallized basil; house smoked duck carpaccio; and Yukon gold potato gnocchi with Dungeness crab, chorizo and soy-brown butter.
What created your passion for cooking?

A very entertaining "wok with yan" not, "Yan can cook" – He was a Chinese Canadian TV chef in the early 80's. He was awesome.

Where is your favorite place to eat?

I enjoy packing a picnic basket filled with; Panini, fresh mozzarella, olives, fruit and chilled espresso and heading to a local park.

What's your favorite dessert?

The simple "affogato" Hot espresso with vanilla gelato – I love the pleasantly hot bitter coffee and creamy sweet cold texture of the gelato.

What's your favorite thing to cook?

Has to be Paella. And anything seafood.

What ingredients can you not do without when you're cooking?

Shallots, fresh herbs, lemons, olive oil and good sea salt.

What's the most basic advice you give when you're talking to someone about cooking?

In this order: Have fun. Read cook books. Cook with the intent to impress your palate and you shall impress others!

Share your thoughts about Arizona agriculture.

Prior to moving here 7 months ago, I never thought there would as much as there is. The technology needed to have farms in the desert, run the way they do is super impressive. The dry, mild to hot weather (year round) is a great advantage for agriculture. I'm excited to partner with more and more local farms and to introduce their products.

Any Advice about food and nutrition?

What we feed our bodies, should be a priority with everyone. Everyone is different so learn about foods and beverages that benefit you the most and continue with trial and error. Do not get discouraged. Personally, eating unhealthy is actually boring to me. To think that eating healthy is boring, I ask you to think again. Read nutrition books and watch @joybauer she is my favorite nutritionist, she is awesome! Learn about new recipes and cook recipes with the intent to impress your palate!

What do you consider unique to Arizona when it comes to food, restaurants and/or anything related?

Definitely the Southwestern culinary flare. All the different chilies, smoked peppers and spices that one can find here is amazing. I have since been hooked on using a smoker to enhance a lot of my productions and using different rubs and marinades. The weather makes it suitable for eating al fresco almost all year…and who doesn't enjoy eating on a patio in the middle of February?
back to main page
Videos The Journey of My Eggcellent Egg