Contact Us
For information about FillYourPlate.org, call (480) 635-3616.
325 South Higley Road, Suite 210
Gilbert, AZ 85296
Fax: (480) 635-3781
325 South Higley Road, Suite 210
Gilbert, AZ 85296
Phone: (480) 635-3616Fax: (480) 635-3781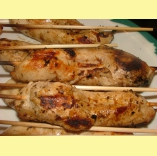 Featured Recipe
Greek Chicken
Tenderize and flatten out your chicken breasts thoroughly, both sides (in order to fold them). Mix the Lemon Juice in your little box of Feta Cheese Try to break apart all large crumbles of the cheese.). Cut Roma Tomatoes in halves or quarters, long way. Dice up Onion and Garlic and sauté in large pan with Olive Oil. Your Feta Cheese mixture will fill each of your Chicken Breasts, so spoon it out ¼ mixture in the middle of each breast then fold over and pin with Large Toothpicks. (Note: Unless you like blue and/or pink chicken, do not get the colored toothpicks, the dye bleeds out on your chicken) (Pack the Feta Cheese in so it does not fall out, the best you can.)Lay the Chicken to cook in the pan of Onion and Garlic. Add entire can or box Chicken Broth to the pan, as well. Flip your chicken only once, till cooked through. About 5 minutes before you are ready to serve add all the cut Roma Tomatoes and bags of Spinach to the same pan. (Your Tomatoes and Spinach cook fast. The Spinach will cook down to almost nothing; add it a little at a time till it shrinks down enough to add more) *Add Salt and Pepper to taste. *Serve each Chicken Breast and spoon out the cooked Tomatos and Spinach with Broth over the Chicken.
videos