Video Archives: Arizona Cauliflower: Yum!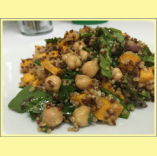 Featured Recipe
Roasted Pumpkin and Quinoa Salad
Preheat oven to 400F. Start by preparing the marinade. Put the ginger, garlic, small red chilies, veggie stock and water into a NutriBullet or high-speed blender. Blend until smooth. Cut pumpkin into bite size pieces, add to a mixing bowl with marinade and toss to coat. Place coated pumpkin on a cookie sheet lined with baking paper and bake until a fork inserts easily, approximately 10-15 minutes. Once cooked, remove and set aside to cool. To make the dressing, add the balsamic vinegar, olive oil, dijon mustard, and agave nectar or honey to a small bowl and whisk until emulsified, set aside. Add cooked pumpkin, chickpeas, quinoa, torn spinach and red onion a bowl, then toss with dressing.
videos