Search recipe: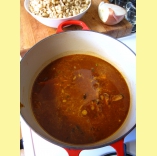 Old Mexico Style Pozole

4 Pounds Fresh Pigs Feet
1 Quart Hominy
2 Bay Leaves
1 Clove Garlic, minced
1 Onion, chopped
8 Red Chili pods
1/2 Teaspoon Oregano
Salt and Pepper to Taste

Directions

Bring meat to boil and simmer in 1 gallon of water until tender. Remove bones. Add hominy, chili and spices. I put the red chile in the blender with about 3 cups of water and blend until chilies turn into a nice paste. Use only sun dried chilies for wonderful flavor and color. Commercially dried chilies dried by fires turns red chili brown and bitter. NOTE: Any meat that makes a nice rich broth works. I have chickens, and an old hen or rooster makes the very best rich broth. So, that entails catching the chickens, killing them, taking off their feathers with hot water, cleaning out the entrails and cutting them up. Anyway, if you want the best broth in the world use a rooster or an old hen.

Provided by:

By Marian Lunt, wife of Wilbur Lunt who farms grains, potatoes, lettuce and more.
Where You Can Buy Ingredients:
Farmers
47 Ranch Sky Island Beef McNeal, Arizona, 85617
View details
Adams Family Farms

Wayne Adams

Dewey, AZ, 86327
View details
Apple Annies

Annie Holcomb

Willcox, AZ, 85643
View details
Arcosanti Organics Mayer, Arizona, 86333
View details
Collier Farm

Rhonda Collier

Chino Valley, AZ, 86323
View details
Elfrida Community Garden

Julie Karra

Elfrida, AZ, 85610
View details
Evans Family Farms

Rick Evans Jr.

Gilbert, AZ
View details
Hauser & Hauser Farms

Kevin & Claudia Hauser

Camp Verde, AZ, 86332
View details
Hopkins Hog Farm

Elija Hopkins

Aguila, AZ, 85320
View details
Lucky Nickel Ranch

Michael and Pani McKenzie

Eloy, AZ, 85131
View details
M Triangle Ranch

Mark & Shelley Michaels

Bonita, Arizona, 85643
View details
New Roots Phoenix Urban Farm
View details
Orange Patch Too

Michelle Smith

Mesa, AZ, 85215
View details
Perkinsville Meat Processing

Mark & Cyndy Ducote

Chino Valley, AZ, 86323
View details
San Ysidro Farm

Nathan and Jackie Watkins

McNeal, AZ, 85617
View details
Sheep Springs Sheep Co dba Dobson Family Farm Inc.

Marc Pedersen

Chandler, AZ, 85248
View details
The Meat Shop

Tim Wilson

Phoenix, AZ, 85004
View details
Vertuccio Farms
View details
Related Videos:
Popular Ingredients:
All Ingredients