Search recipe: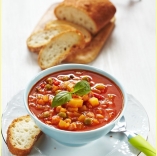 Classic Minestrone Soup

1/2 cup olive oil
1 Large Sweet Yellow Onion, Chopped
1 cup Carrots, diced
1 cup Celery, diced
1 Can Great Northern Beans or Cannelini Beans (Do not Drain)
2 to 3 Bay Leaves
1 sprig Fresh Thyme
6 cups Beef Stock (add more if soup gets too thick)
One Rind Parmesan Cheese Rind
1 cup Italian Style canned tomatoes and juice
2 cups potatoes, diced
2 cups zucchini, diced
2 cups Savory Cabbage, shredded
1 cup Small macaroni Noodles, cooked
to taste salt and pepper
3 to 4 Cloves Fresh garlic, minced
Pinch Red Pepper Flakes, optional
Homemade Croutons

Directions

Heat olive oil in a large soup pot or Dutch oven. Add diced onions, celery and carrots and garlic. Sauté on medium heat until the onions are golden brown, about 5 to 7 minutes. Add bay leaf and thyme and give it a good one-minute stir! Add zucchini, potatoes, Savoy cabbage, Parmesan rind and tomatoes and optional red pepper flakes. Stir. Add beef broth, stir and bring to a boil. Cover and simmer for about an hour. When the veggies are soft, add the Northern White or Cannelini beans and uncooked pasta. Simmer for about 10-12 minutes or until pasta is done. Don't overcook pasta. Right before serving, season to taste with salt and pepper. Ladle into bowls and top with your homemade croutons and sprinkle with Parmesan cheese. HOMEMADE CROUTONS Ingredients: 3-4 cups bread cubes (stale or leftover bread works well) 2 tablespoons melted butter 2 tablespoons extra virgin olive oil 1 teaspoon garlic salt ½ teaspoon salt ½ teaspoon pepper Directions: Mix together melted butter and olive oil. Pour over bread cubes. Sprinkle in garlic powder, salt and pepper. Toss well. Spread the bread cubes onto a baking sheet and bake at 350 degrees for about 10 or 15 minutes or until the cubes are golden brown.

Provided by:

By Jan D'Atri, Media celebrity and Agriculture Advocate!
Where You Can Buy Ingredients:
Farmers
A & M Farmers' Market

Adam Hatley and Mark Freeman

Scottsdale, Arizona, 85250
View details
Abraham's Faith Garden Concho, Arizona, 85924
View details
Adams Family Farms

Wayne Adams

Dewey, AZ, 86327
View details
Agua Linda Farm

Laurel Loew

Amado, AZ, 85645
View details
Aravaipa Heirlooms Aravaipa Canyon, Arizona, 85292
View details
Arcosanti Organics Mayer, Arizona, 86333
View details
Bathtub Spring Farm

Gary & Marilyn Hart

Nutrioso, AZ, 85932
View details
Beatty's Guest Ranch & Orchard

Edith & Tom Beatty

Hereford, AZ, 85615
View details
Big Happy's Farm

Kathy Porter

Mesa, AZ, 85210
View details
Blue Sky Organic Farms

David Vose

Litchfield Park, AZ, 85340
View details
Collier Farm

Rhonda Collier

Chino Valley, AZ, 86323
View details
Crooked Carrot Farm

Clark Furlong

Queen Creek, AZ, 85242
View details
Desert Roots Farm

Kelly Saxer

Queen Creek, AZ, 85242
View details
Double Z Gardens Amado, Arizona
View details
Duncan's Trading Company

Patrick Duncan

Litchfield Park, AZ, 85340
View details
Elfrida Community Garden

Julie Karra

Elfrida, AZ, 85610
View details
Evans Family Farms

Rick Evans Jr.

Gilbert, AZ
View details
Flying M Ranch Beef & Vegetables

Phillip Byrne, Ali Fleck, Ellen Parish

Flagstaff, AZ, 86002
View details
Forever Yong Farm Amado, Arizona, 85645
View details
Freeman's Corn Patch

LeeAnn & Mark Freeman

Mesa, AZ, 85201
View details
Fury Farm LLC

Brandon Brooks, Peter Egyed, Christine Montgomery

Goodyear, Arizona, 85338
View details
Granite Creek Vineyards / Prairie Sun Farm Chino Valley, AZ, 86323
View details
GreenGate Fresh

David Root

Yuma, Arizona, 85365
View details
K&B Farms

Kelly Cathcart & Beep Lawrence

Cottonwood, AZ, 86326
View details
La Buena Vida Farm

Jerry Racicot

Portal, Arizona, 85632
View details
Lucky Nickel Ranch

Michael and Pani McKenzie

Eloy, AZ, 85131
View details
Maya's Farm

Maya Dailey

Phoenix, AZ, 85042
View details
New Roots Phoenix Urban Farm
View details
One Windmill Farm

John Scott

Queen Creek, Arizona,
View details
Orange Patch

Alan Freeman

Mesa, AZ, 85213
View details
Pinnacle Farms
Janna Anderson
View details
Pinto Creek LLC

David Layton

Eloy, AZ, 85141
View details
Queen Creek Olive Mill

Alicia Popple / Perry Rea

Queen Creek, AZ, 85242
View details
RichCrest Farms

Thom Richardson, Etta Sechrest, Jim Dumas

Cochise, AZ, 85606
View details
Robbs Farm

Alan Robbs

Willcox, AZ, 85643
View details
Rousseau Farming Company

Will Rousseau

Waddell, Arizona, 85355
View details
Schnepf Farms

Carrie Schnepf

Queen Creek, AZ, 85242
View details
Sheep Springs Sheep Co dba Dobson Family Farm Inc.

Marc Pedersen

Chandler, AZ, 85248
View details
Sunflower Farms Scottsdale, Arizona
View details
The Simple Farm

Michael and Lylah Ledner

Scottsdale, AZ, 85260
View details
Tolmachoff Farms

Bill & Grace Tolmachoff

Glendale, AZ, 85303
View details
Vilardi Gardens Phoenix, Arizona
View details
Whipstone Farm

Shanti Rade

Paulden, Arizona, 86334
View details
Wolfberry Farm Chino Valley, Arizona
View details
Yucca Ash Farm Sonoita, Arizona, 85637
View details
Related Videos:
Popular Ingredients:
All Ingredients